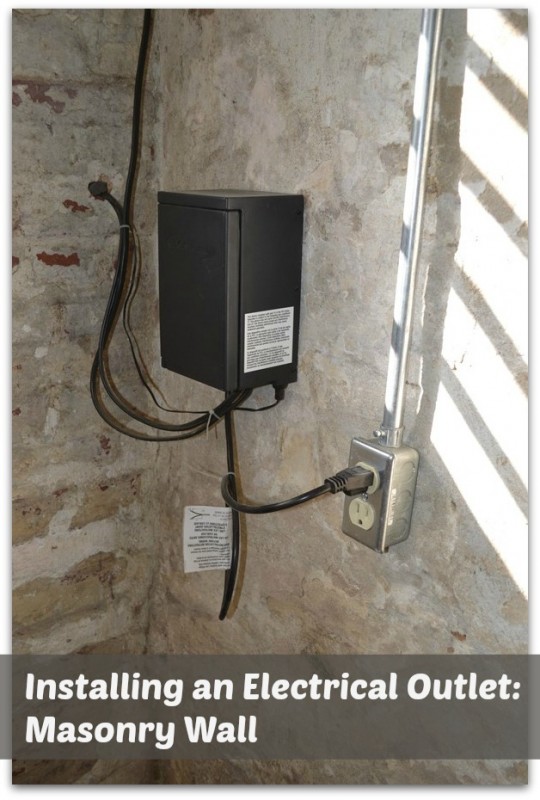 I live in an old house and the largest portion of our house sits on a stone foundation.
A few weeks back I told you about the landscape lighting I installed in our new patio. Maybe I post on that project in its entirety one day, but for now – bits and pieces. I'll focus a little today on installing a new outlet for the power pack that would drive that lighting.
I have told you some about some of the electrical projects we've done around here. Frankly though, that single post doesn't even begin to scratch the surface. I've actually done a good bit of electrical work through the years, and honestly it is something that I do enjoy.
Going against specification somewhat, I mounted my pack indoors, in the small room that sits under our side porch. While I had previously called this room our mechanical room that really isn't a fair distinction. Our main breaker panel as well as the command board for our security system is installed here, but really this room is used for little more than storage.
Because of its proximity to the patio, its relationship to the lights in my lighting plan and its present function, this location was simply the right place to install my power pack, and consequently my new outlet.
As you might have already guessed, this meant mounting my new outlet in a new box to a masonry wall. And this, in a nutshell, is what I did.
Installing an Electrical Outlet on a Stone Wall
Supplies: (Absolute raging fan of the) Handy Box – single gang metal box often with rounded corners, Handy Box Cover, Receptacle (I used a spare one in ivory that I had lying around), a Ground Wire, (in this case, about 8 foot of) 14 gauge THHN Solid Wire (in some cases you may also see a single Romex/NM wire used), (approx. 12 feet of) 1/2″ EMT Conduit, (various screw-down type) EMT fittings & sweep elbows, Electrical Tape, and screws to mount the box with. (In some cases, an offset connection at the handy box is recommended.)
Tools: Wire Strippers/Cutters, Side Cutters, Drill/Driver, #2 Phillips Head Screwdriver, Masonry Bits, Hammer, Tape Measure, Torpedo Level, Tubing Cutter.
*******
Prep: First things first, I placed the box on the wall roughly where I wanted it to go. One of the more challenging parts of my task was that in my house, and at some point over the last 120+ years, the stone wall in this room had been parged over with something. I knew I wanted to find the mortar joints to make an easy installation of a box that would simply receive a plug and be forgotten. BUT I just couldn't see the mortar joints in this wall, as they were hidden behind that parging.
So I had to probe. Mindful of the power pack's chord length and the handy box's size, I moved around until I found an exact location that would work. I loaded up my drill driver with a masonry bit (3/32″ I believe) and I got busy. My first drilling was a success and I pre-drilled to depth of about 2" …  backing out the bit and the debris about 3 times or so as I went.
Now, I know some readers, even to this point, could be intimidated by the thought of screwing something into to a stone, brick or a block wall. And yeah, that task has gotten the best of me on several particular occasions in the past.
"Don't you need special screws for screwing into masonry, a special bit, and special instructions?" Well, yes, as I noted in my recent dissertation on common screws … IF you are going directly into the stone or the brick or the block or even into concrete. But it is not an absolute necessity if you are only going into mortar. (Note of caution there though: If you are installing something in either mortar and/or that primary block, brick or stone surface and it will bear significant weight , see instead lags and shields.)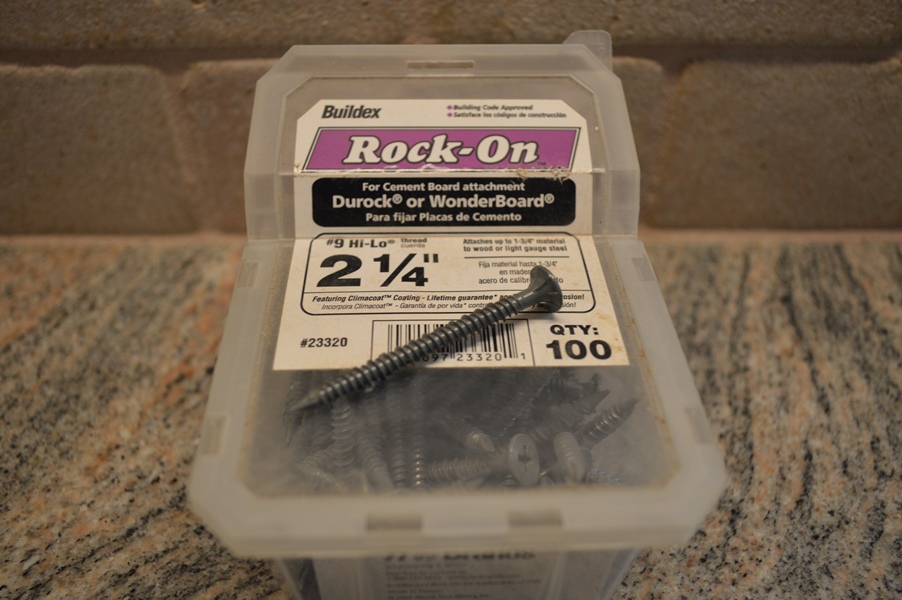 For my outlet installation, I used 2 ¼" #9 epoxy-coated backerboard screws. Their relatively thin shaft went in easy, and their hi-lo thread configuration really bit in to hold.
*******
Hookin' It Up: Before I mounted my box, I prepped it. This box had knock outs so I removed one for where my wire would enter and attached an EMT termination fitting. It was at this point that I also adding my vertical length of EMT (electrical metallic tubing). Because the handy box is metal, it's pretty essential – I installed a ground screw with a factory-mounted grounding wire. This would tie easily into the receptacle's grounding screw when I was ready.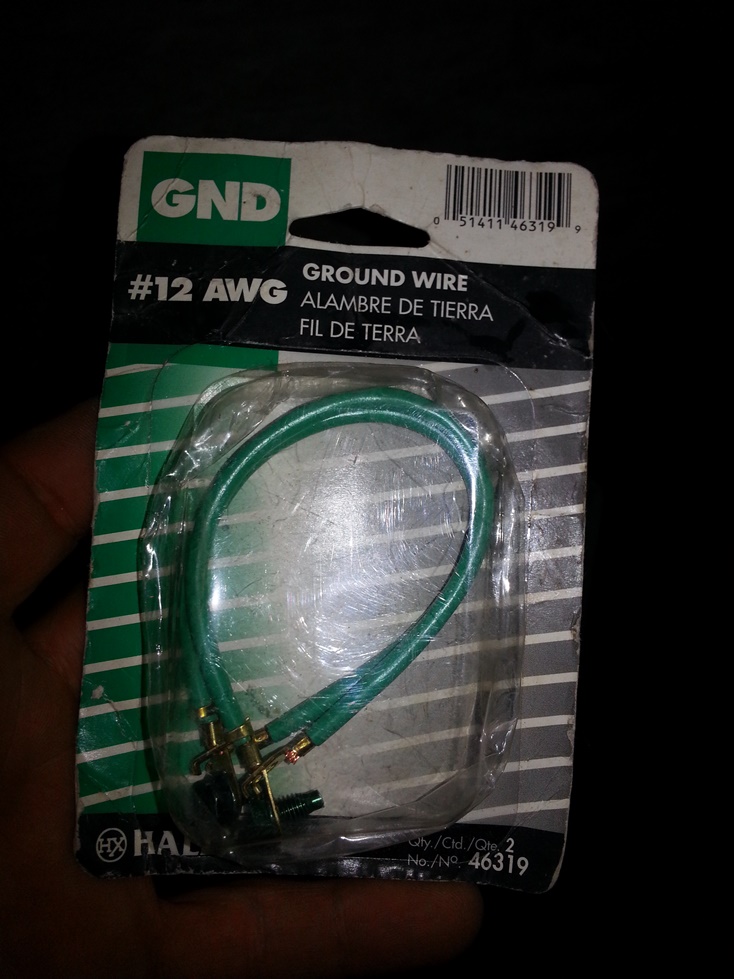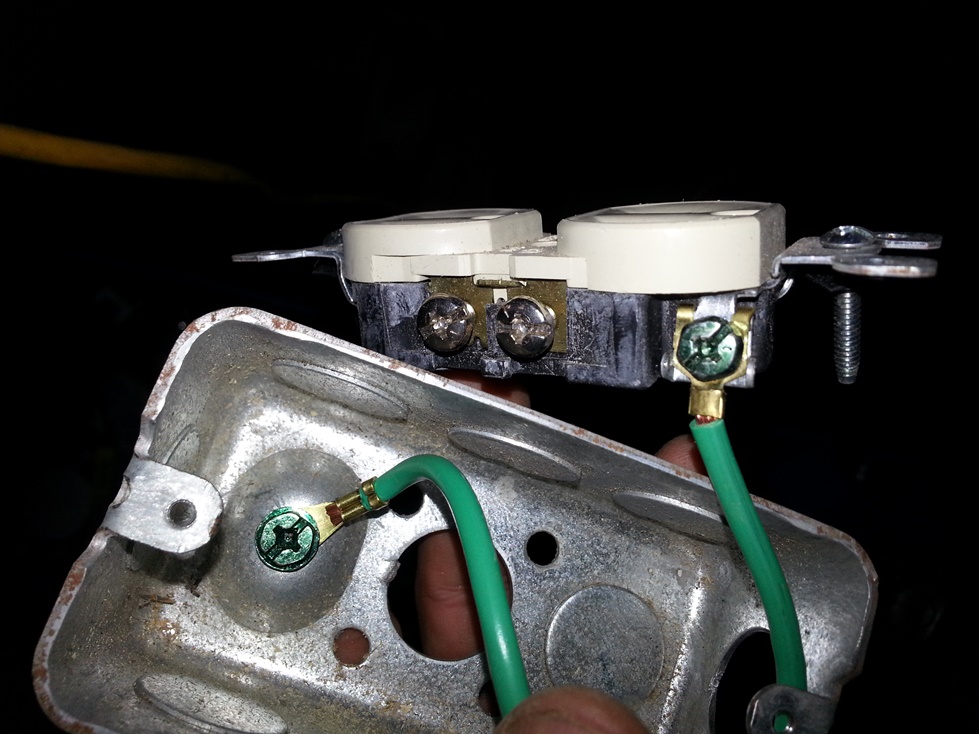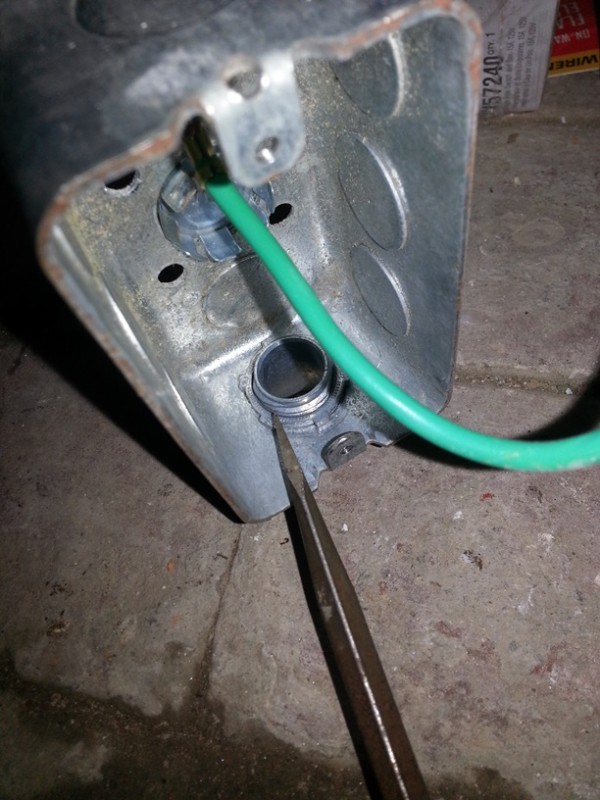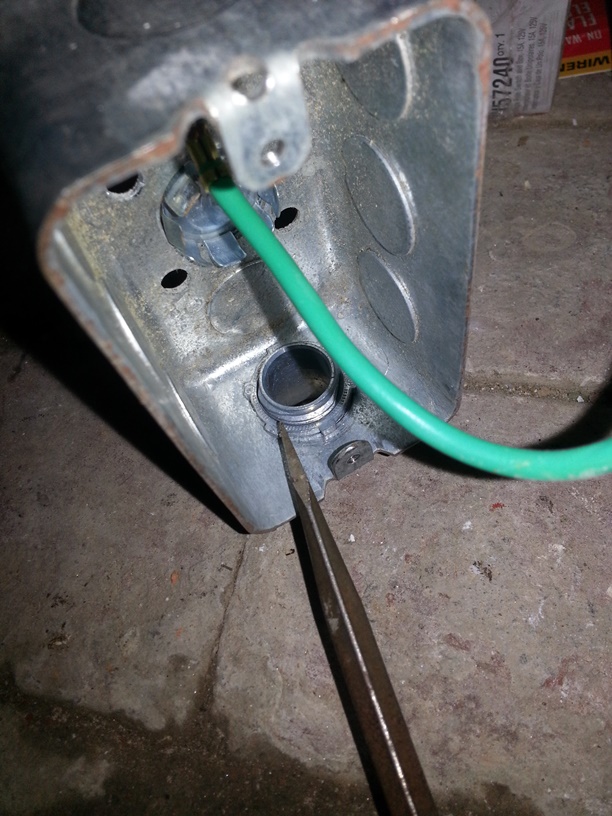 I feed my wire down through the vertical stand of EMT. I used one screw to screw the box in and being careful not to overdrive it. Using a torpedo level, and though a quick "does it look level?" works just as well, I marked for, drilled and installed a second screw.  I then strapped the rise of tubing to the wall about 24″ above the outlet (for this, I used more traditional 2 3/4″ Tapcons.)
While I had said previous that I wired off of our alarm circuit, actually I pulled my new wire over from a keyless light mounted on the porch joists above in this room. It was easy for me to quickly shut off the associated breaker. I ran my new wire along the ceiling feeding it through the EMT.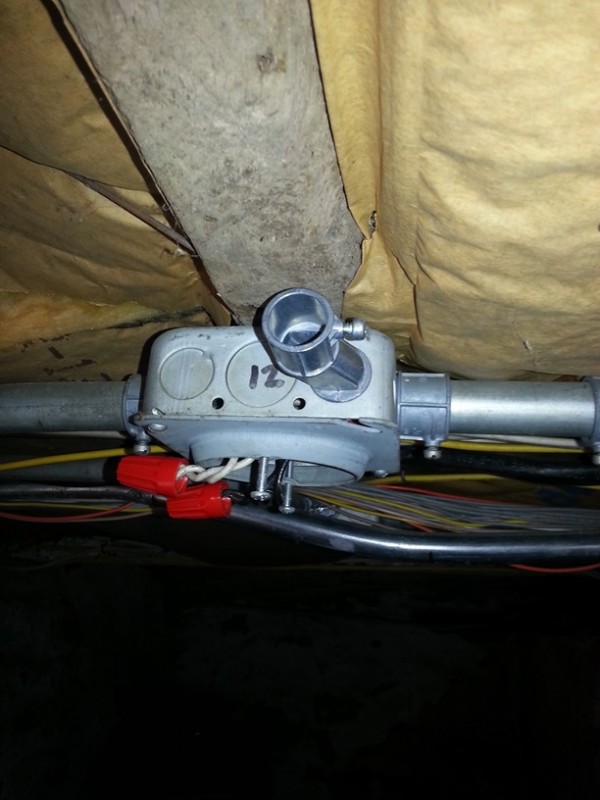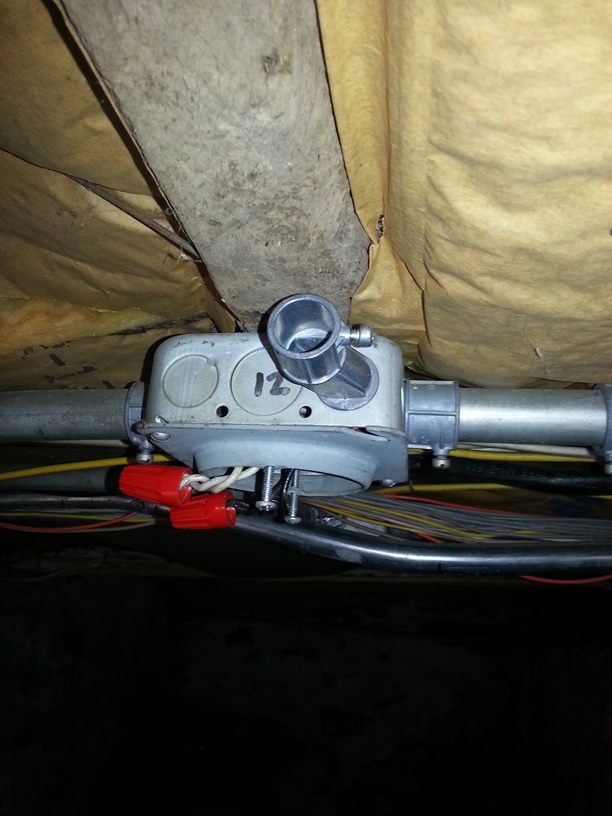 While you can use a hack saw, an angle grinder loaded with a metal cut-off blade or even a chop saw, I chose to cut my tubing with the tube cutter I typical use with cutting copper plumbing pipes.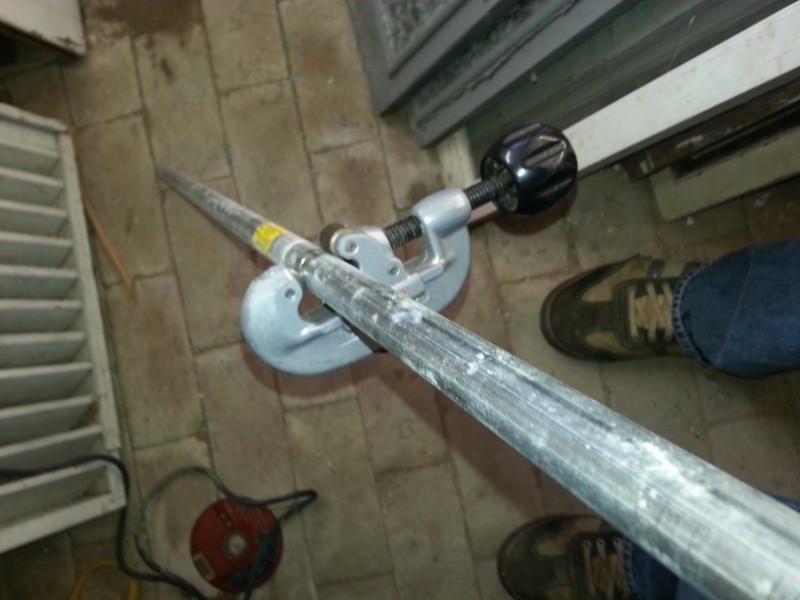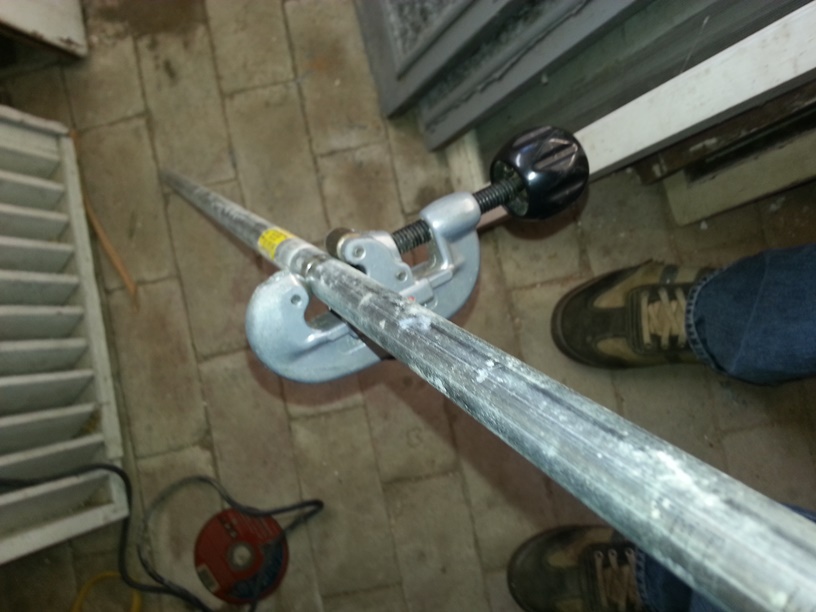 With flush mounted boxes (similar to old work boxes), it is necessary to remove the receptacle's "ears", I used my Klein Tools Side Cutters to easily break them off.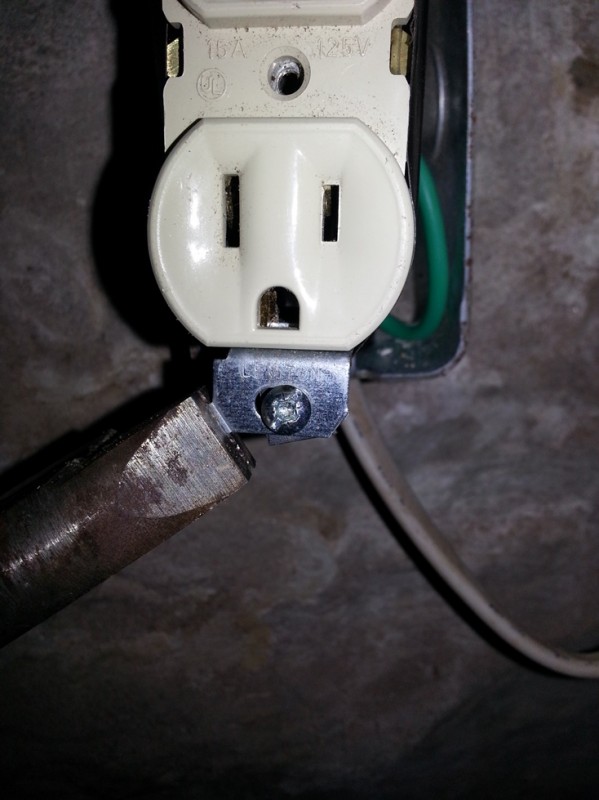 I prepped the wire, and back-stabbed my outlet. Here – ground first, neutral (or white) second always to the silver screw black side, last.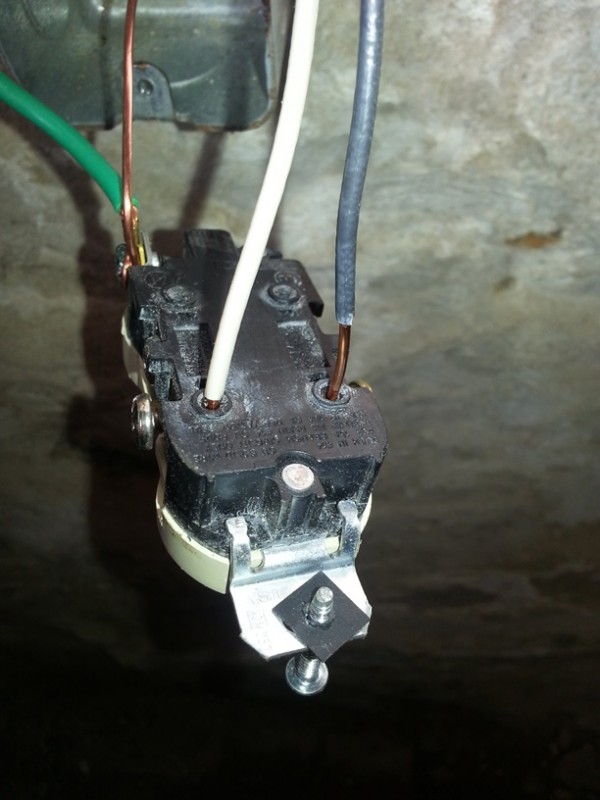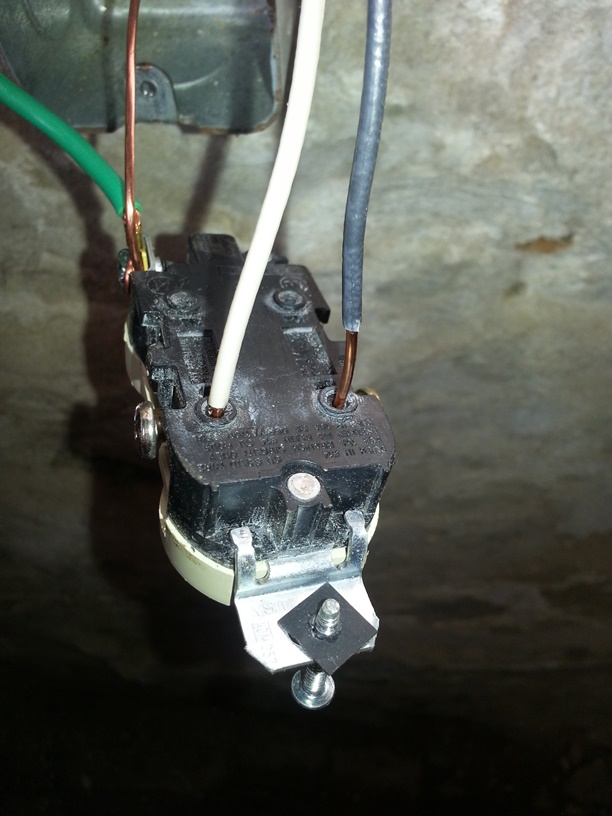 Maybe a little anal but in metal boxes it is sometimes common to wrap the terminals with electrical tape … kinda like wrapping a toothache (if you picture the image I mean). I did this once the screw terminals were screwed down.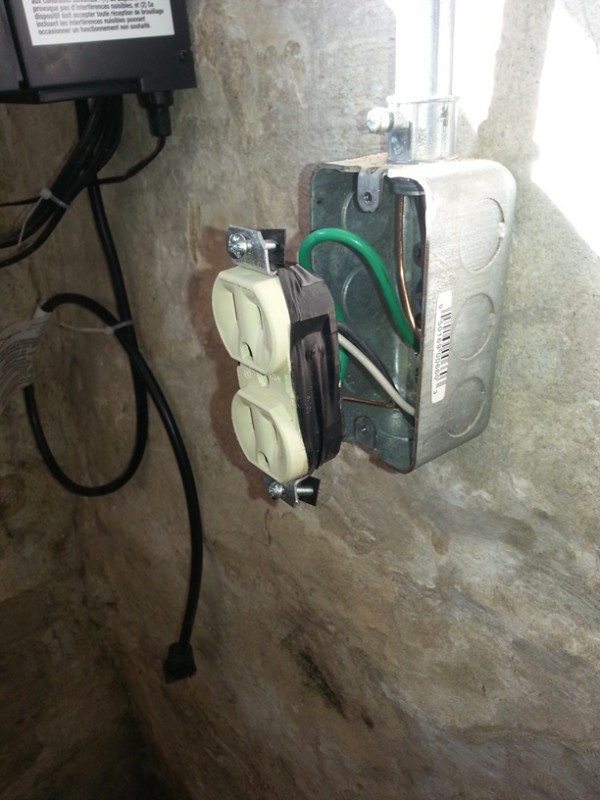 I attached the receptacle to the box and installed the cover (with pre-fitted screw).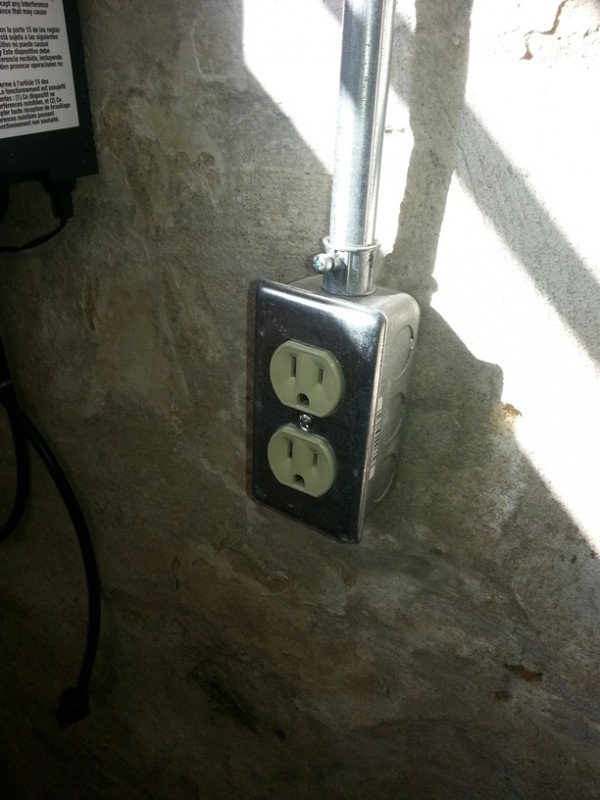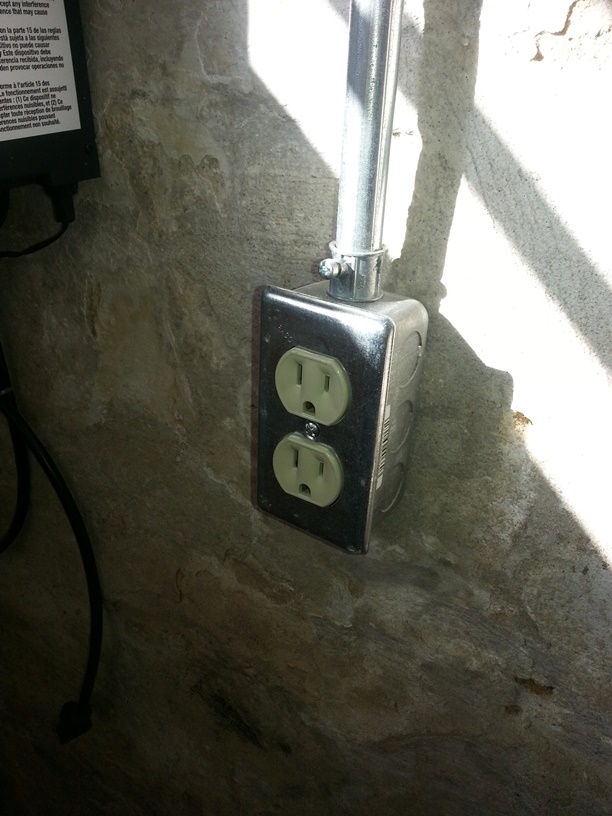 I circled back made my connections at my light, flipped the breaker and plugged in my power pack. Done and done, the whole operation took me about an hour of working time.
*******
Thanks to Gary @LandLightS for his thoughts and guidance with this post. ~jb
That's it. Thanks for joining me today, hope it helps. May your week be … electrifying and great. ~jb