You know I am a little bit of a hardware geek. The kinda guy that will walk into a home and feel up your kitchen cabinet cups and your ball hinges. (ha!) So why not – I was thrilled when I learned that Top Knobs was a participating sponsor of #BlogTourVegas, which in turn – took us to KBIS 2014.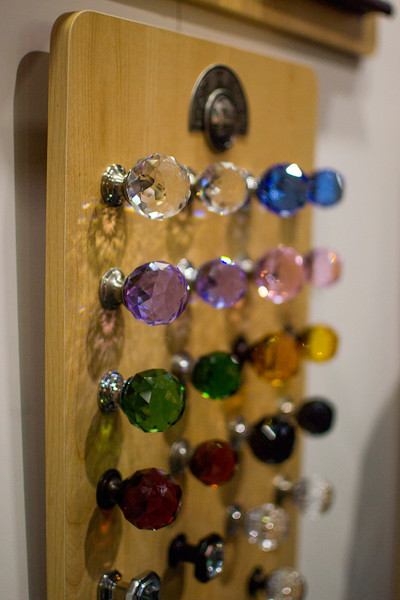 Image by Chasen West for Modenus
Top Knobs at KBIS 2014
First, walking into their booth, I have to say I felt like a kid walking into a candy store – the colors and the textures… the variety that hung on the sample boards at the booth's back wall.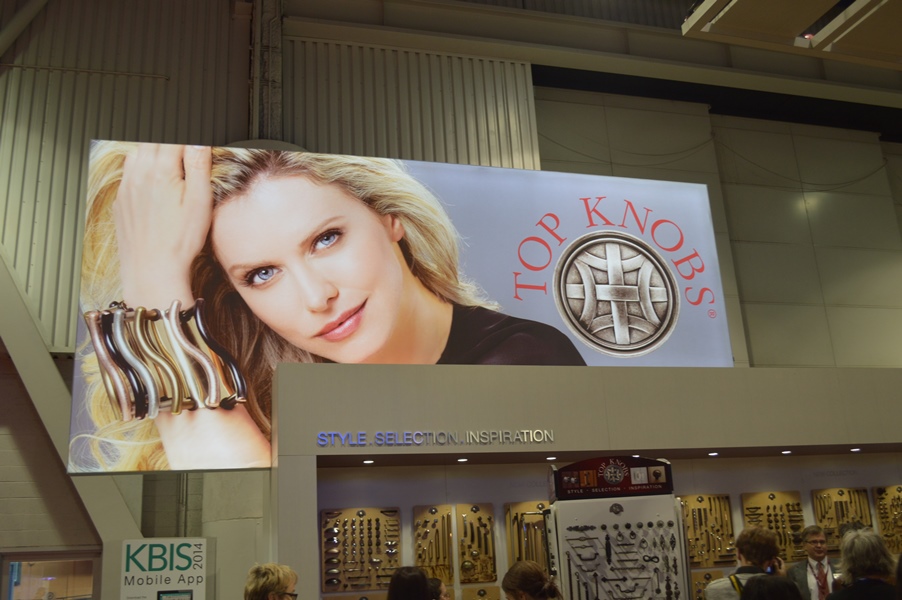 Looking up, I couldn't help but notice the gorgeous lady looking at me. "Who Me?!"
"We like to say that our hardware is precious jewelry for the kitchen," she said. (Actually it was Christine Zimmer, Product Manager for Top Knobs who said that, but writing it this way makes me look better. Ha!)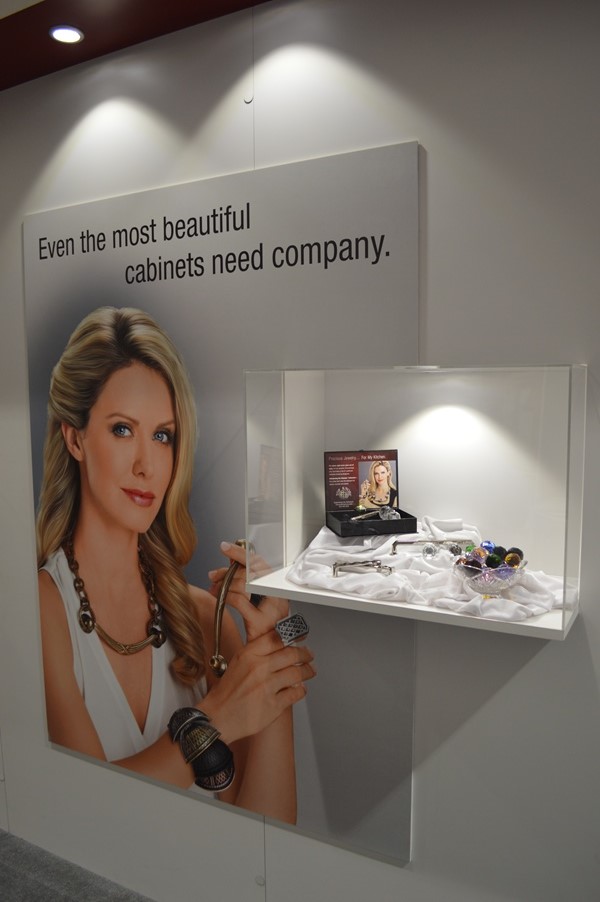 Swinging around to the back side of the booth – more recent photography sessions helped drive the connection with … bling home.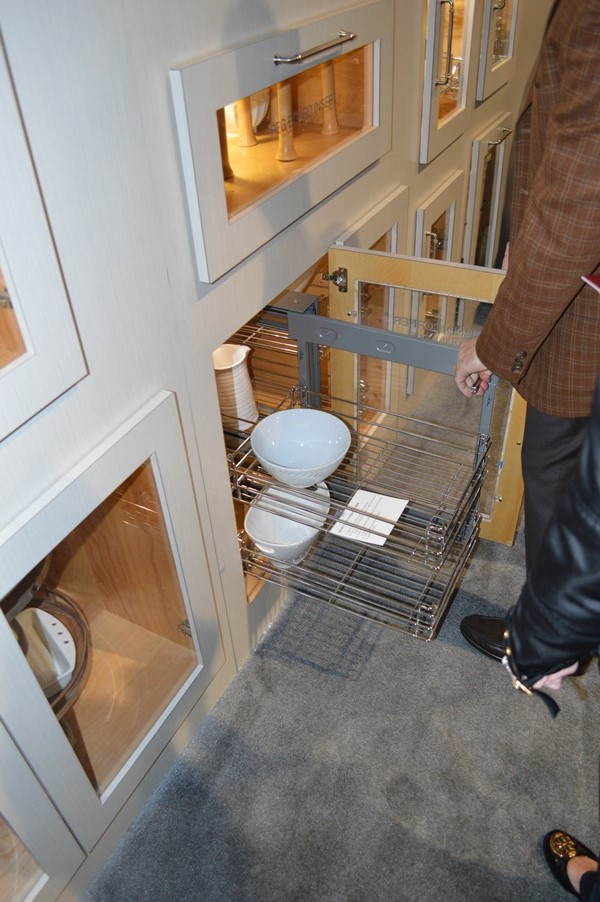 Beyond the glitz and glamour, this company can get its functional on. Hardware Resources (Top Knobs sister company) share some of the booth's space. Looking to the left … a storage wall got a good bit of attention.  Along with decorative hardware, Hardware Resources offers an array of organizers including lazy susans, blind corner solutions, peg board drawer inserts, hanging wire racks & glides as well as island carts, even bath vanities.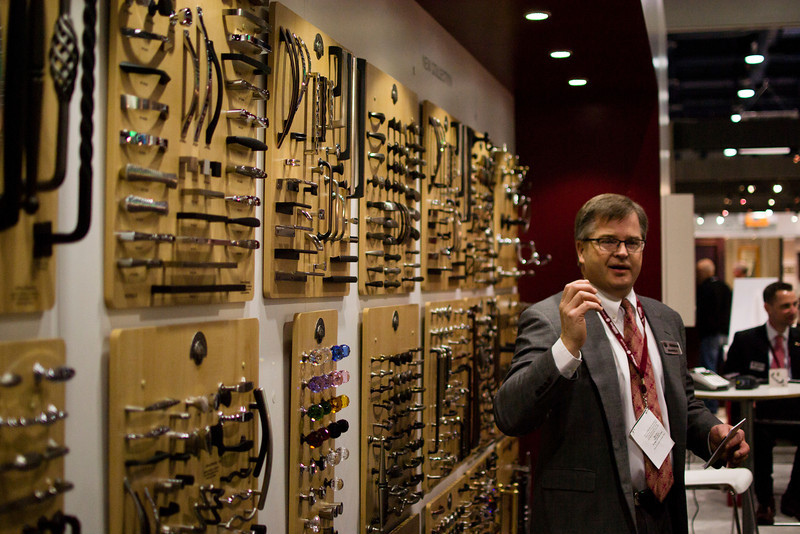 Image by Chasen West for Modenus
Warren Ramsland, President of Top Knobs personally introduced us to Top Knobs. He said, "We partner with professional showrooms … as a "design company" our products are not available at mass merchandising stores." The company is the #1 manufacturer of decorative hardware for the professional market and is only available from design showrooms.
New at KBIS
& many available on Amazon.
Crystal knobs added to the popular Chareau Collection
Clear crystal is inlaid into the top of a faceted body for a knob that has the appearance of priceless jewelry. Zimmer continues – "The new Chareau Crystal knobs bring this statement to reality with a knob that is completely jewelry inspired."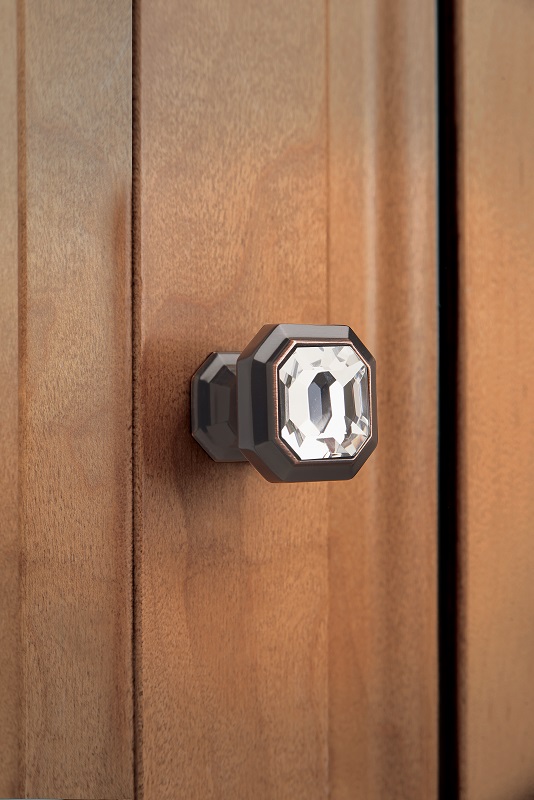 Mercer Collection
The Mercer Collection is a new contemporary line containing six series. Again according to Zimmer, "Each series we crafted within this contemporary line is completely unique and stands alone."
Quilted has gotten a majority of what I have seen in the press. The fashion-inspired Quilted utilizes geometric shaping to create focal interest while maintaining a clean, modern line.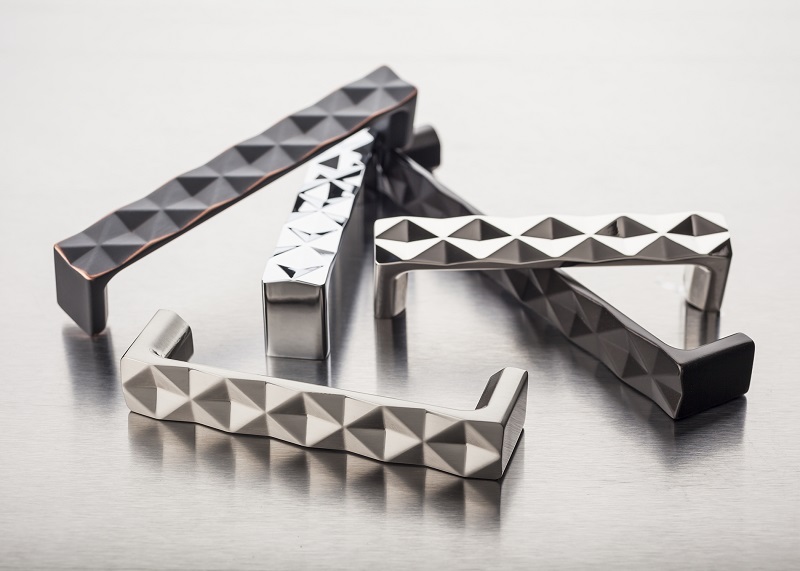 Europa
While Quilted (above) has been well received, I might be a little more drawn to Europa's Tab Pulls, which attach to the inside of the drawer for a minimal look.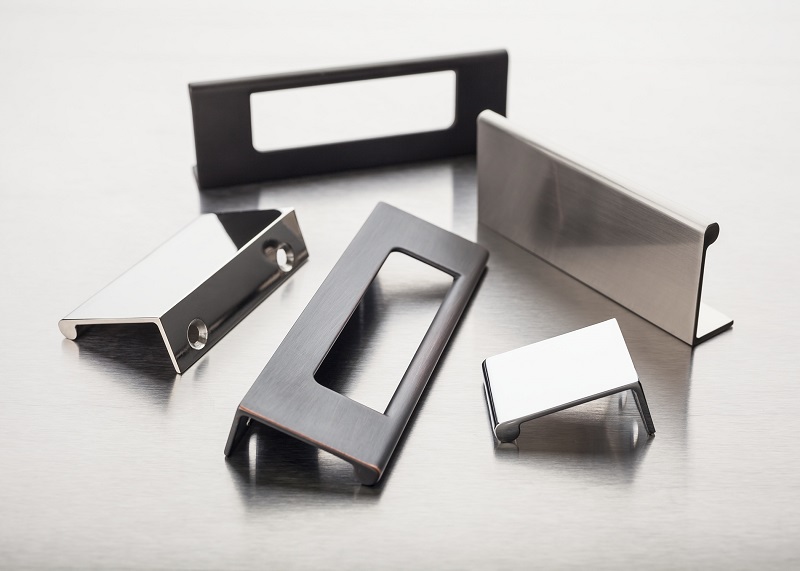 Holland
Holland is a minimal pull that offered an elegant feminine touch to give it both status and warmth.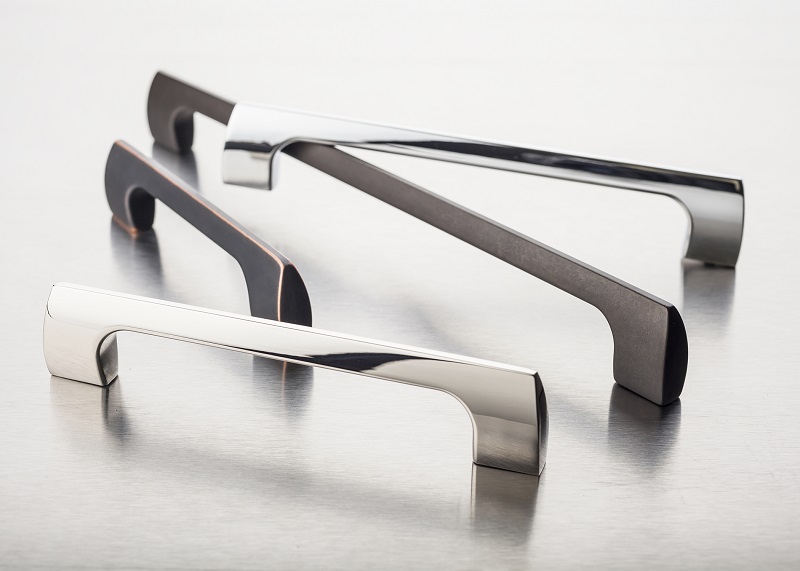 Glacier
The Glacier series is inspired by awesome landmarks with ergonomic geometry and details that elevate this classic minimal pull.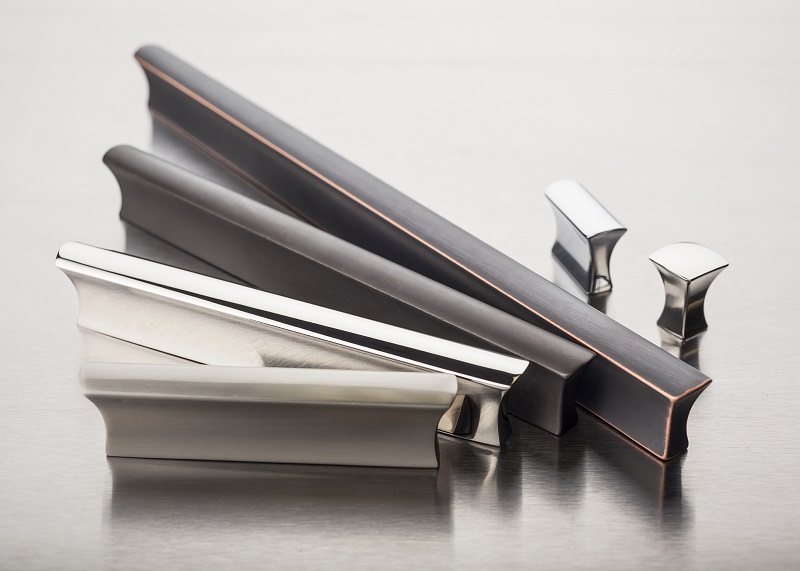 Oculus
The Oculus series has a strong circular shape and clean lines, yielding contemporary character that integrates well with transitional rooms.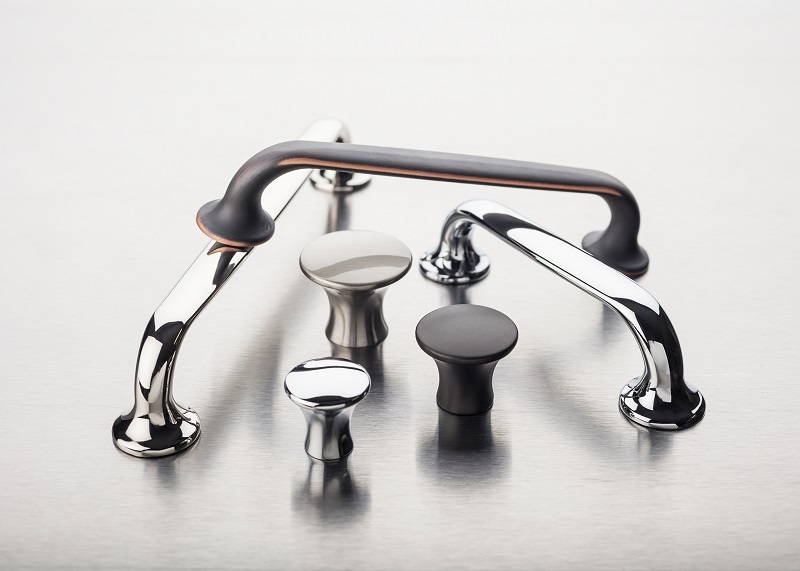 Tango
"To pull off Tango, we had to make sure every edge inside and out was polished to perfection to enhance both the beauty of the design and the cabinetry underneath," Zimmer concludes.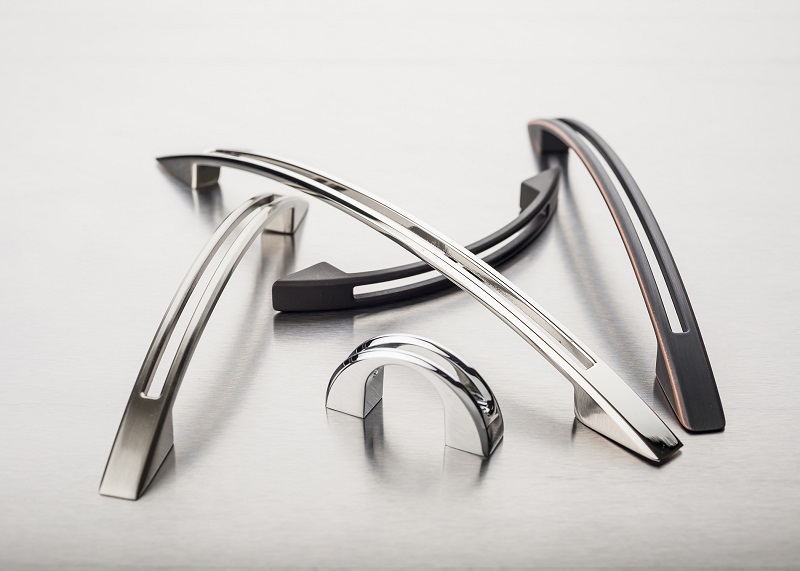 Is there one you fancy?
All Top Knob hardware is hand-finished. Every cabinet knob, door handle, pull, hook or fixture offers a completely sealed finish that lasts for years. All hardware carries a lifetime warranty for the original purchaser. They have over 4,000 kitchen, bath and closet designs in some 26 finishes to match nearly every individual style and décor. As they say – "always the perfect opening."
Search Top Knobs Shop on Amazon here.
*******
#BlogTourVegas 2014
@TopKnobs was a sponsor of #BlogTourVegas, of which I was a part.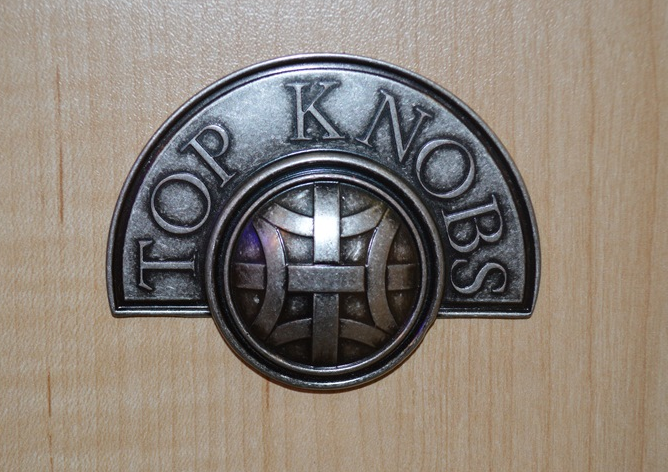 Design and remodeling enthusiasts can follow BlogTour Vegas on Twitter using hashtag #BlogTourVegas. View all the latest posts on Modenus.com (and now including posts from the recent #BlogTourNYC). Information about the entire group of bloggers is here.
BlogTour Las Vegas 2014 was sponsored by: KBIS, Blanco, Poggenpohl, Sub-Zero, Cosentino, Mr Steam, Top Knobs, Wood-Mode, Formica Group, Walker Zanger and TOTO USA. Look for posts on each.
*******