*******
An inexpensive digital camera comes in handy, for sure.  Here are four uses for the digital camera during home improvement.
* While collecting inspiration for your next home project.  You'll snap pics at the design showroom, at the home center and at Mrs. Jones' down the street;
* When communicating ideas to designers, suppliers, contractors and/or to your Aunt Myrtle and Uncle Frank. You'll say, "I want this, but like this. See.";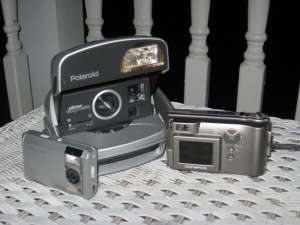 * Prior to closing the walls up. You'll document where and what lives in them: framing, plumbing, electrical, and low voltage raceway. (Make sure these pictures ultimately stay with the house.);
&
(My personal favorite!)
* When performing a repair task that requires you to disassemble, then later reassemble something. You'll take pics at every stage of the way. If you get lost while putting things back together, you'll simply refer to the pics you have right there in the viewer.
— Can you think of more around-the-house uses for the digital camera?  Please feel free to add them in the Comment section below.  Thank you & BMoxie BMore!
More Moxie:
Note: Your digital camera lives in your (figurative) toolbox right next to your pocket notebook.