The Sounding Board :: Episode 3 – Hammer Down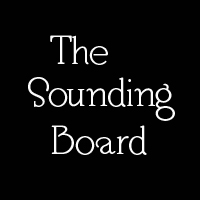 I switched to a Marantz Digital recorder for this episode and preparation was more of a parade than a process. By that I mean there are times when we find ourselves acting as a conduit and doing what needs to be done. This episode was due and I hope I did it justice. Thanks for listening.
This is the full version of Episode 3. Scroll down for links to mp3 excerpts from this installment.
Podcast: Play in new window | Download
Short Cuts from Episode 3
Cut 1: Hammer Down – 5 minutes 20 seconds
Cut 2: Play Ball– 2 minutes 35 seconds
Cut 3: Joan & Betty – 3 minutes 25 seconds
More Moxie (Related Links):
For more info on the series, here The Sounding Board.
For more from Barry, here.