Picking up where I left off last time, or Wait! … was that the time before?  Either way, and wherever I was with my story, I was in Providence a few weeks back at JLC Live. As I mention in my first post from it, my primary reason for attending this trade show was simply to go and learn.  I wanted to take in at least part of an abundant clinic program, but as things are and sporting a press pass, I couldn't keep from taking a few product meetings.  Plus, our readers (you maybe) have come expect the product roundups we do when we head out to these Shows.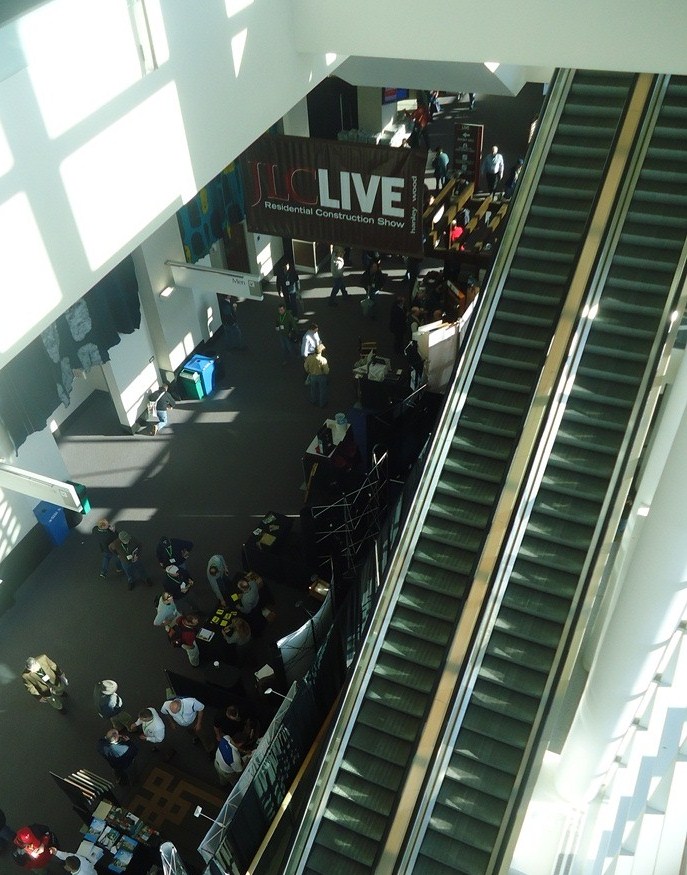 More recently, I posted about some the troubles I had with my home's security system.  Truth be told, I was kinda on the fence about whether or not I even wanted to post about it, that is – until I stepped into Andersen's booth at JLC Live.
* Andersen VeriLock – There, I found Andersen's VeriLock System – a wireless alarm sensor that works in conjunction with many Honeywell security systems.  The VeriLock sensor technology embeds Honeywell Security's widely used 5800-series wireless sensor inside the locking mechanisms of a select group of Eagle windows and doors. Released in 2011, the company says they are looking at expanding its availability after a successful initial reception.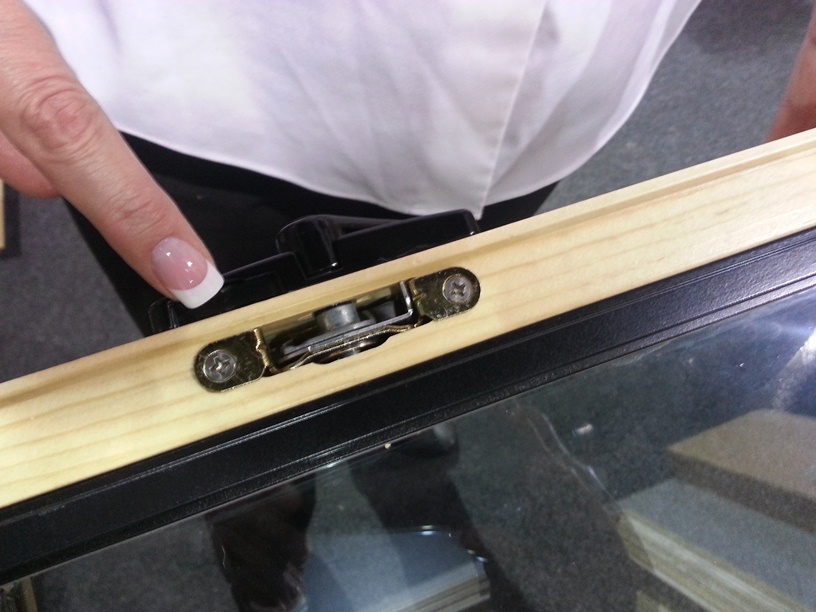 Similar technology can only detect if a window or door is open or closed. VeriLock sensors were the first that can detect whether they are actually locked or unlocked, in addition to open or closed.  A feature that would have easily helped thwart our recent break in … as intruders came through an unlocked window. To learn more, here is the initial release on the Andersen || Honeywell collaboration.
* Boral Versetta Stone – One of my first stops of this Show was Boral's booth.  You might know Boral for their TruExterior Trim, and I did have time for a quick rundown on what they call a new category of exterior product.  It's Poly Ash, and I caught Bill Robinson & Greg Burnet presenting with it at the Remodeling Show in October.
But, this time, it really wasn't what I came for.  Instead, and maybe I mentioned, this Show was a little more focused on, well, me … and my needs.  I wanted to get a look at Boral's Versetta Stone product.  Available in three colors and two textures, this cultured stone system is said to install 5 to 7 times faster than traditional masonry.  It is a panelized, tongue and groove stone system and it is marketed to and is typically installed by a siding contractor. It is called a dry stack, that is – there is no mortar involved, a fact that can greatly ease the stresses of an interior masonry installation.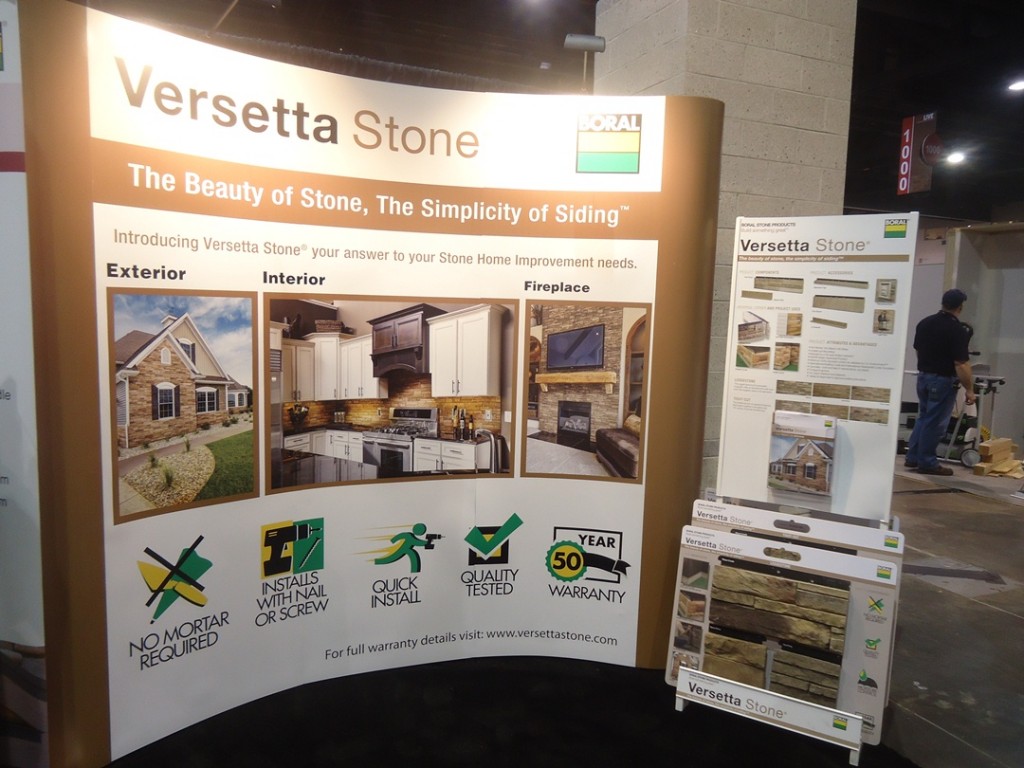 Pricing at about $11-12 a square foot, it installs with a nailing fin (actually usually screwed) directly over a standard wood frame, skinned first with a 15lb roofing felt.  (The black underlay is actually recommended.)  Waste is minimized because cuts can dovetail together; outside corners plus various cap details complete installations.
It might be just what I am looking for to finish my sometimes-mentioned open crawl space area.  To see a Versetta Stone install in action, you can check this video.
* Bosch Power Tools – Few brands bring a presence just like the one Festool threw down at this Show.  Honestly, it is a little intimidating … and the guys do go nuts over it.  I wasn't in the frame of mind where I needed, or even wanted, to fight through a crowd just to get in on that commission.  (It's not like can make that kind of investment, right now, anyway.)
A close second to Festool's todo was the buzz around Bosch Power Tools.  While Bosch's booth was humming too (non-stop it seemed throughout the Show), it wasn't so overwhelming that I couldn't get in and get some quality q-time with a few of the product managers and a few of the key products.
– 23 Gauge Pin Nailer – I got a good look at their 23 gauge Pin Nailer – (FNSI38-23).  A pin nailer, as I mentioned recently, is currently on my shopping list.
The FNSI38-23 features a no-nail (not low-nail) lock out, a rubber over-mold for firing protection on workpieces, plus a nifty magazine cut-out allowing for maneuverability in tight spaces.  A low nail indicator complements auto nail length adjustment and optimized "Full Force Firing Technology."  To learn more about the FNSI38-23, here.
– Cordless 12v Drivers – On trying their 12v pocket driver as well as their 12v impact driver, both were slim and lightweight. Neither felt like they were at a loss for torque or power.  Rather than attempting to relay all I had on these puppies, I'll point you instead to this vid (on a channel called Tools and Machinery) – for a more complete look at Bosch's line of cordless 12v tools.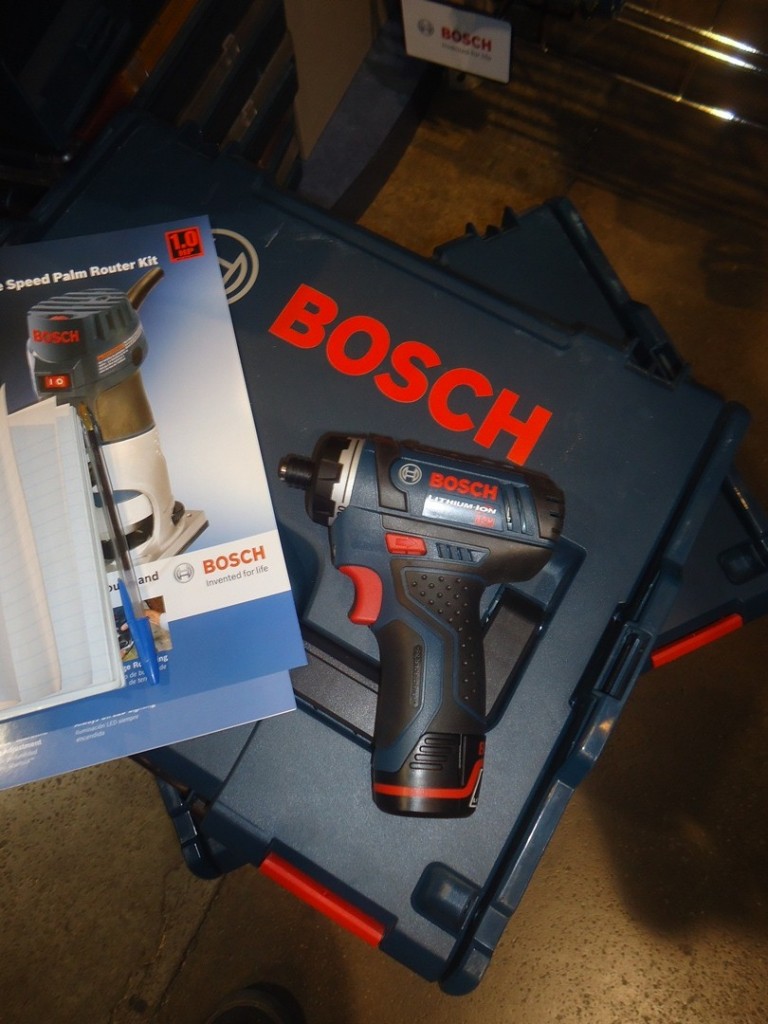 – Click & Go – Then we have Bosch's new Click & Go Storage System. I did purposely lead into this section with Festool, because Click & Go seems to be a rival of, a peer to Festool's popular Systainer and Sortainer products.
Released only about 6 months ago, Bosch's system integrates what they call L-Boxx Storage Solutions. Four sizes are fully customizable and offer one-click stacking.  According to the company, "The Click & Go System features a wide variety of L-Boxxes, a series of inlays, inserts, trays and drawers as well as two transportation options, the L-Cart and L-Dolly."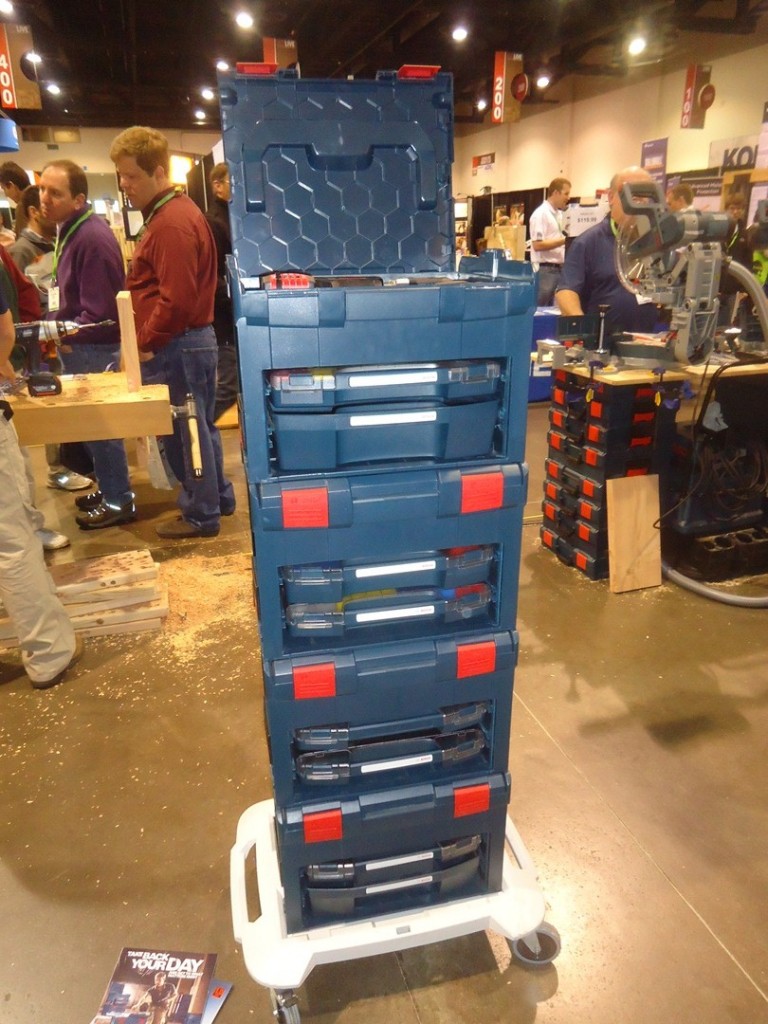 L-Boxx-3D
Small part inserts can handle nuts, bolts, screws, and nails or bits and blades.  Hand tool inserts are also available. But the bigger highlight here is that inserts not only align with say 100 of Bosch's most popular power tools, but also with many tools from other popular competitive brands. On a quick look at the L-Boxx-3D (above), I can see just how easily various elements are combined to fit any personalized need.
All L-Boxx cases feature a water resistant design and can be locked with a padlock – protecting supplies and tools from the elements and theft when stored in truck beds or in open areas on the jobsite.
Transportation solutions, like the L-Cart, L-Dolly, and the L-Boxx-3D – which itself features three drawer options for increased system flexibility, were released in December.  For more information on Click & Go, here.
* SKIL's MAG77LT – Those following along know I popped into SKIL's booth to take a look at the company's newest SKILSAW offering.  A worm drive saw andddd … I know, because I've heard it enough already – "Worm drives are soooooo West Coast."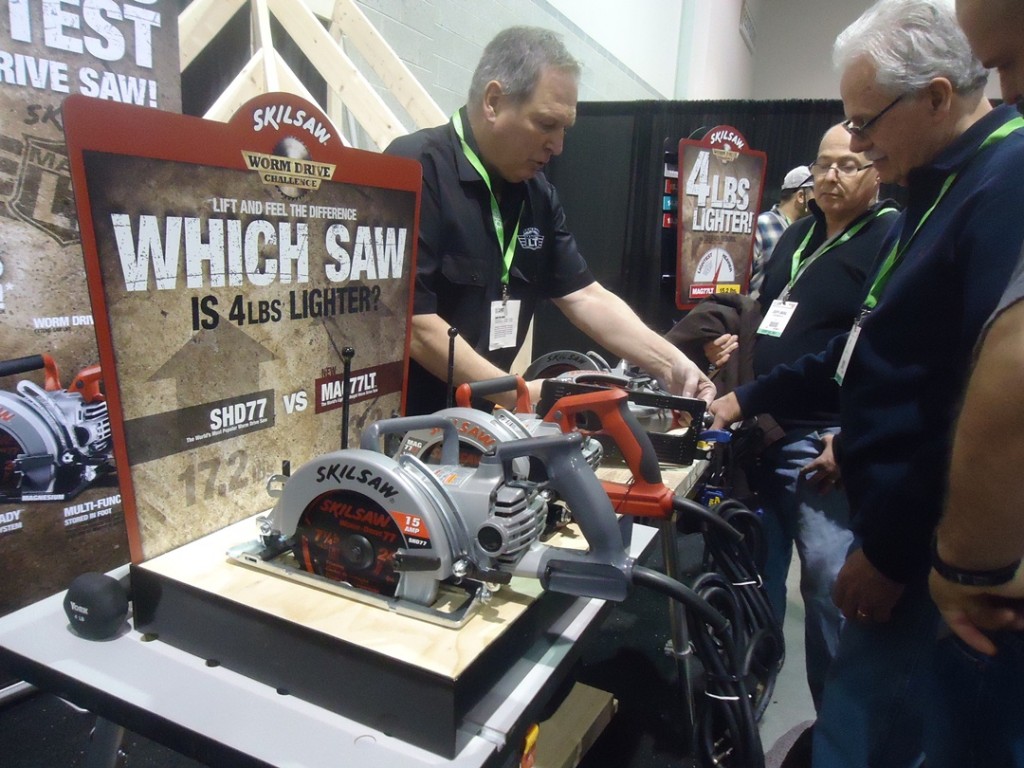 Greg Mangialardi :: SKIL
I was fortunate enough to get time with SKIL's product manager Gregg Mangialardi, who in turn gave me the key points on worm drives.  Because the motor on worm drives is set behind (and not on the side as with sidewinders), blade placement is typically on the left.  From this, they offer, as Greg points out, a better line of sight and more blade visibility.  Further, and again because of motor placement, a worm drive is lower profile and is commonly believed to allow for greater extension, or reach, through a cut.  Worm drives are said to offer better overall weight distribution.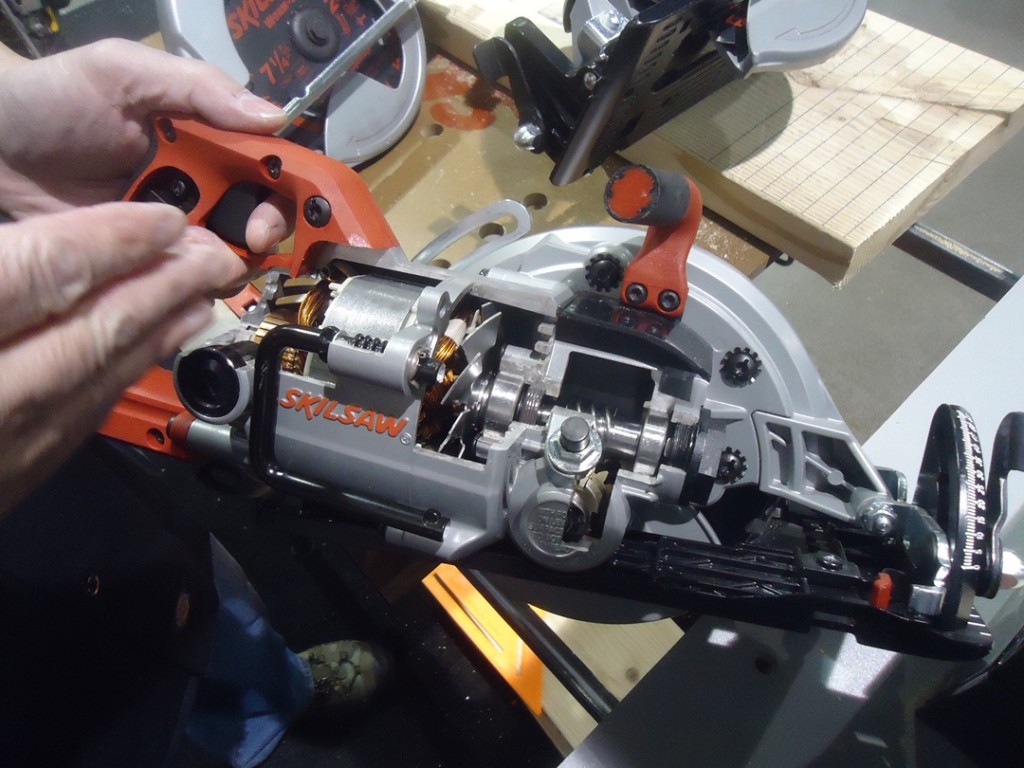 Already celebrating 75 years of the SKILSAW, SKIL is set to release the MAG77LT.  At four lbs lighter than their own industry standard SHD77, the MAG77LT features a 53 degree bevel with a true positive stop at 45.  It also features a proprietary Cut-Ready depth system.  But most of the to-do in the booth was around the 77's weight loss. This was accomplished, I learned, by moving many elements to a lighter magnesium construction and by shortening the overall length of the motor.  Retailing around $219, this saw will be available in May, 2013.
*******
That's about what I have for products at JLC Live 2013. Minor shouts to Sashco (and their sealants), to Stinger for their collating Cap Stapler and Cap Nailer, as well as to Schulter, who offered a fantastic clinic on the "Next Generation Tiled Bath."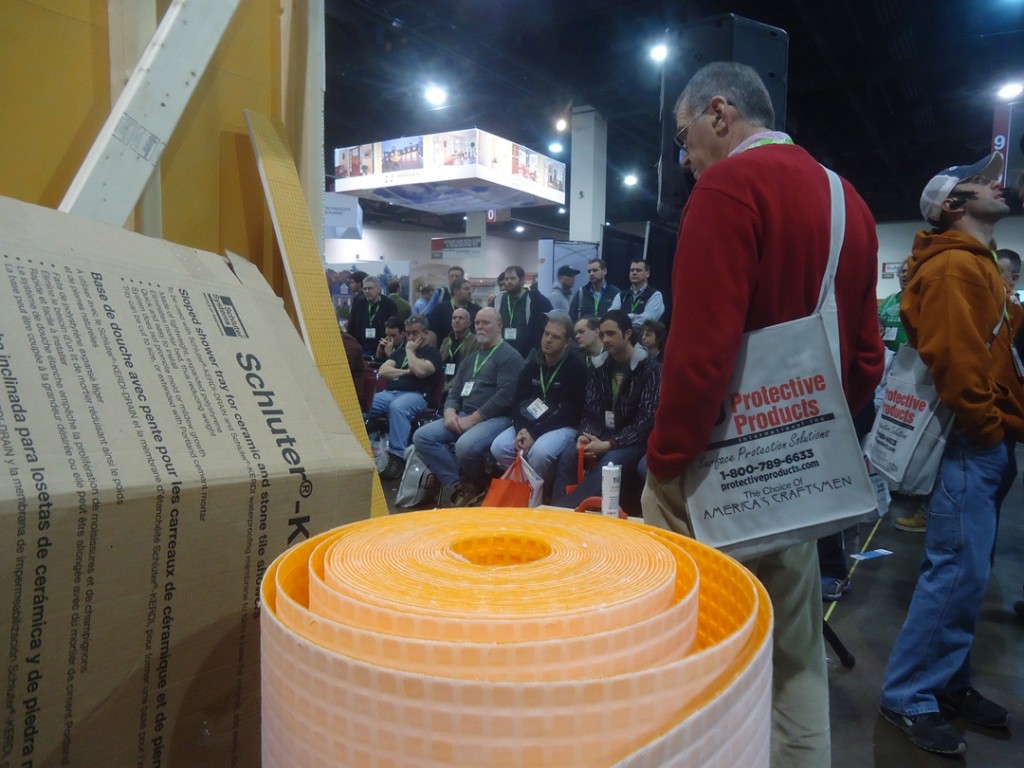 Thanks for reading all.  Back soon, with something. ~jb