Part one of our coverage on ODL Door Glass at IBS 2014.
Roger Finch and I walk over to an impressive and fun display of doors which make up one side of the ODL booth at the International Builders' Show (IBS 2014) in Las Vegas. Roger is a marketing manger at ODL and as he speaks, you can hear how his job overlaps with research and development: "This is our Spotlights Program. A lot of consumers and homeowners today are downsizing and moving from the suburbs back to the inner city. One of the things that they are doing is – taking older homes on the market today, and they are rehabbing them back to their original architecture. Spotlights is our program for the architectural enthusiast."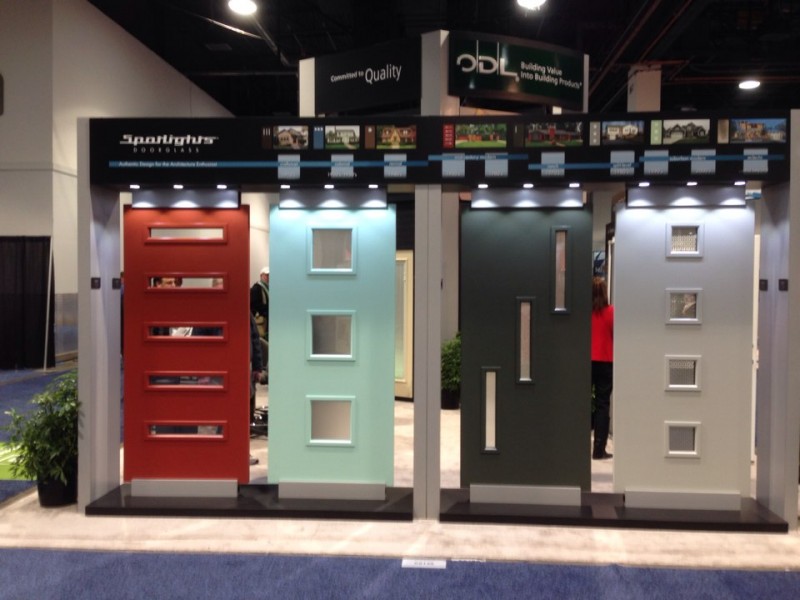 Roger continues, "If you look at the different light arrangements, you can see that we have a door here that looks like the 1950's and 60's 'Brady Bunch Home.' We offer three different size light panels, either a 12 by 12 inch, a 7 1/2 by 7 1/2 inch or a 22 by 3 1/2 inch, and four different types of glass – you have clear, frosted, cubed or what we call 'chain link,' which is more of a modern type approach."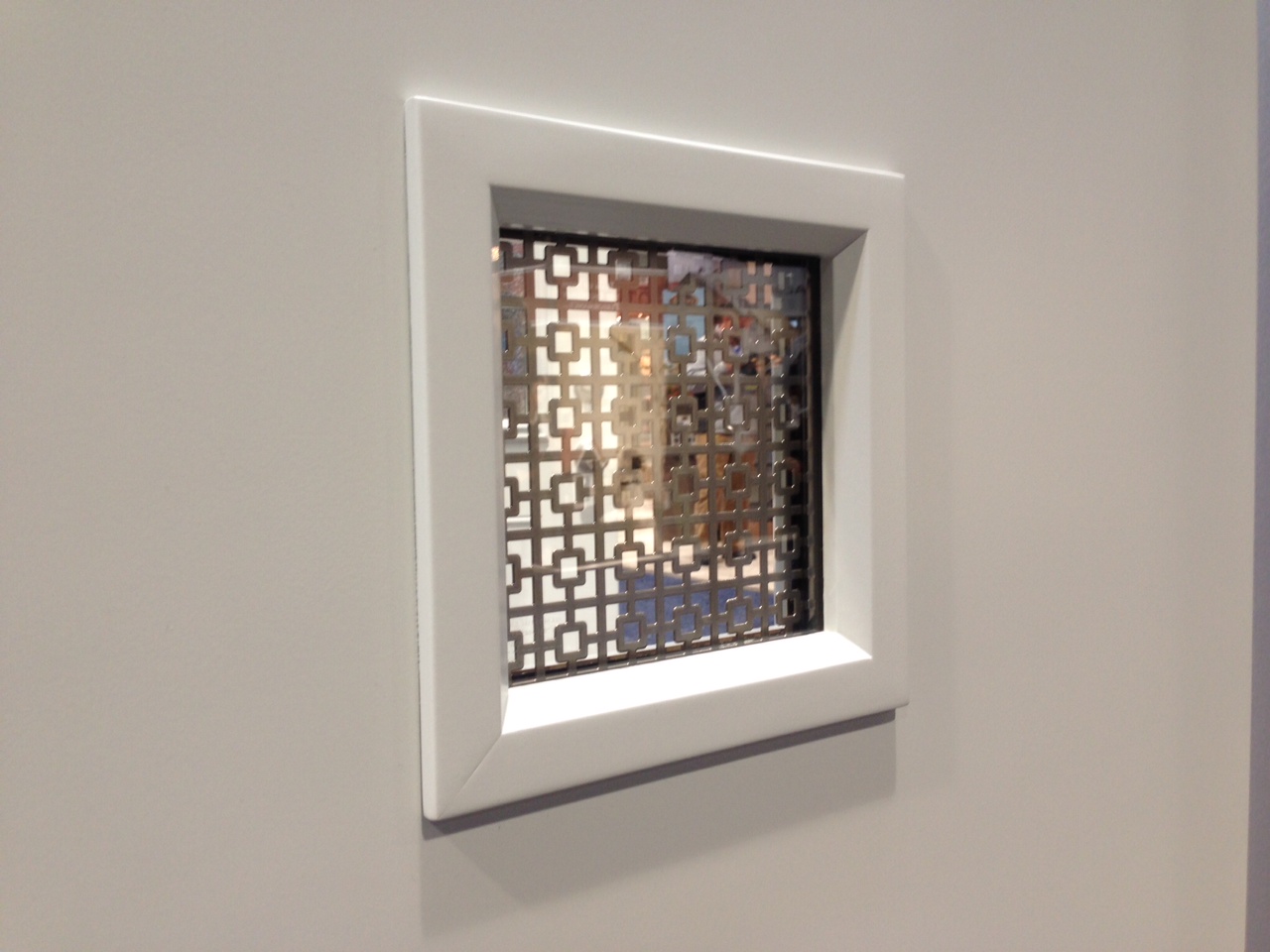 Looking at this array of doors, it is slightly difficult to tell just which "modern" Roger is talking about. Is it the 1960's idea of modern or is it a more modern, modern? One thing is for certain, the first time I saw this four door display, I immediately thought Brady Bunch. Oddly, when I searched the BB house online I found no windows at all in their front door, but, Roger was absolutely right nonetheless, these doors do look as though they belong in the Brady home.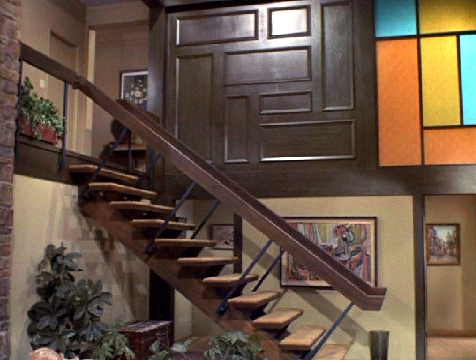 Famous Brady interior via the internet
Or, say, the Draper apartment from Mad Men…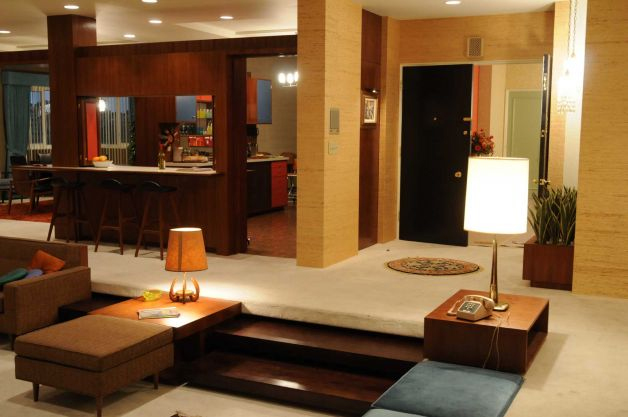 Draper apartment via the internet
These Spotlight series door lights have a wonderful quality about them. It is an attention to detail that the designers/decorators of the sets from Mad Men may have more to do with driving than any honest-to-goodness sixties TV show. Perhaps due to the look of our moving media from the 1920's through 1950's, we Americans created a nostalgia (aka Retro) industry more about visual representation, than about the sensibilities behind the creation and use of an object.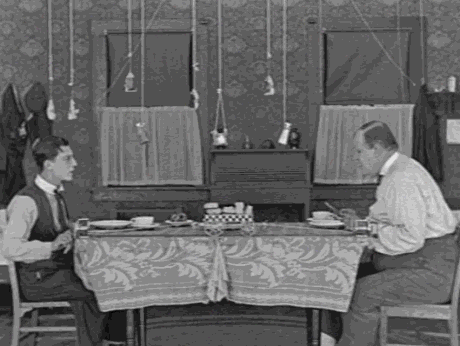 In a way, it makes sense – the enduring pop images from those four decades grew directly out of theater and live performance where sets are representational. Silent film had an entirely different personality than talkies. Black and white demanded a different level of detail than did color. When we watch ourselves, in that context, things seem less real then they must have been. Now it is 2014, and the "born in the sixties" kids have high-definition to contend with when telling their stories. I think this how we end up with shows like "Mad Men" and "The Americans" and a sense of the past, which is palpable. Right down to our entry doors….
I am lost in thought and Roger has been moving on without me: "The nice thing about our doors is the customization aspect of them. You can take any size door lights and mix and match any that you would like. Another thing that we have done is we have come out with a low profile, what we call a 'modern frame' (there is that word again), which looks a lot like the wood frame you would have seen in the older homes."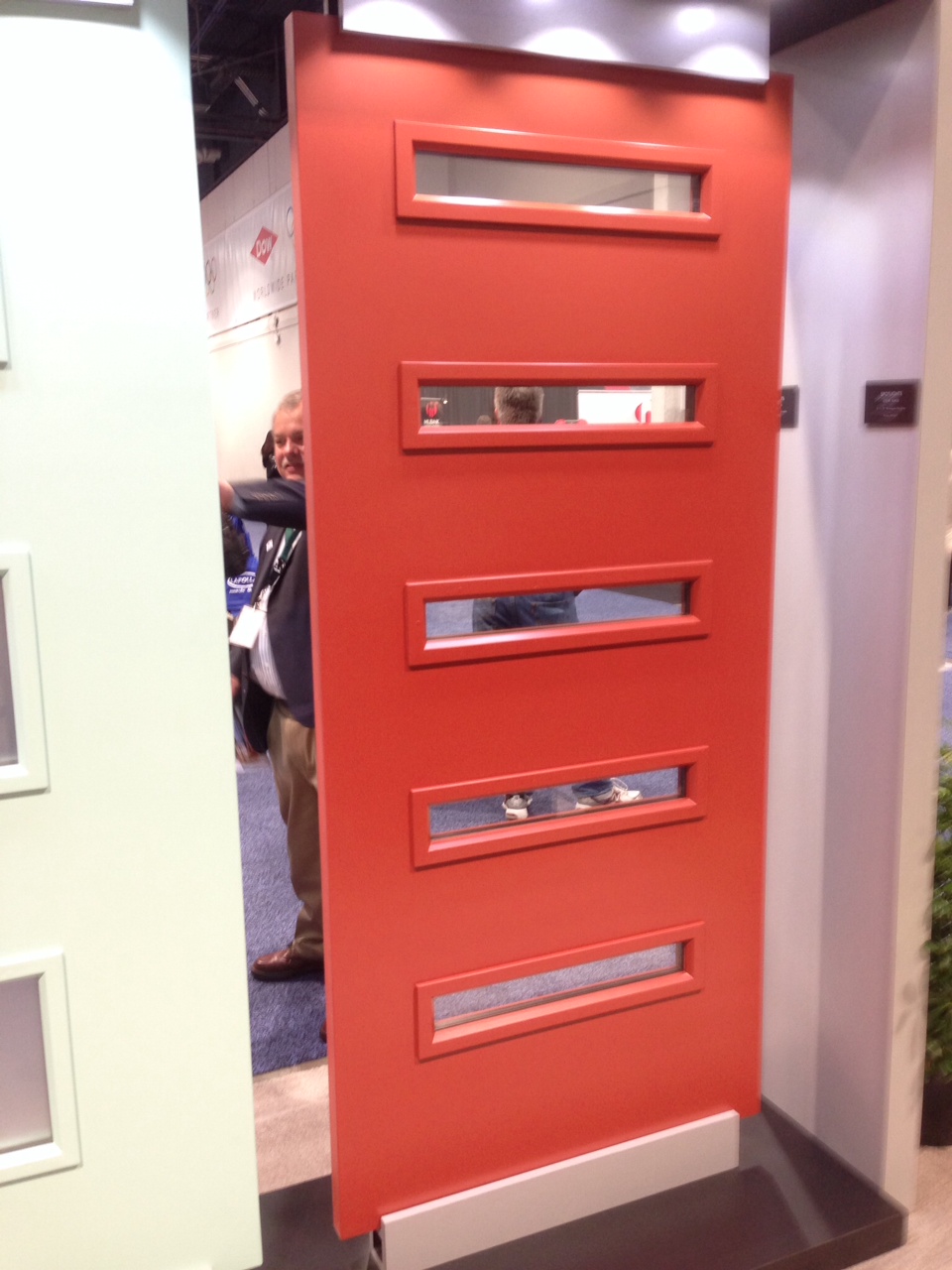 The customization idea flew right by me and I ask Roger, "Are these the only four models?"
Roger gently recapitulated, "We are showing the four most popular configurations, as we have done our consumer research out in the marketplace, but…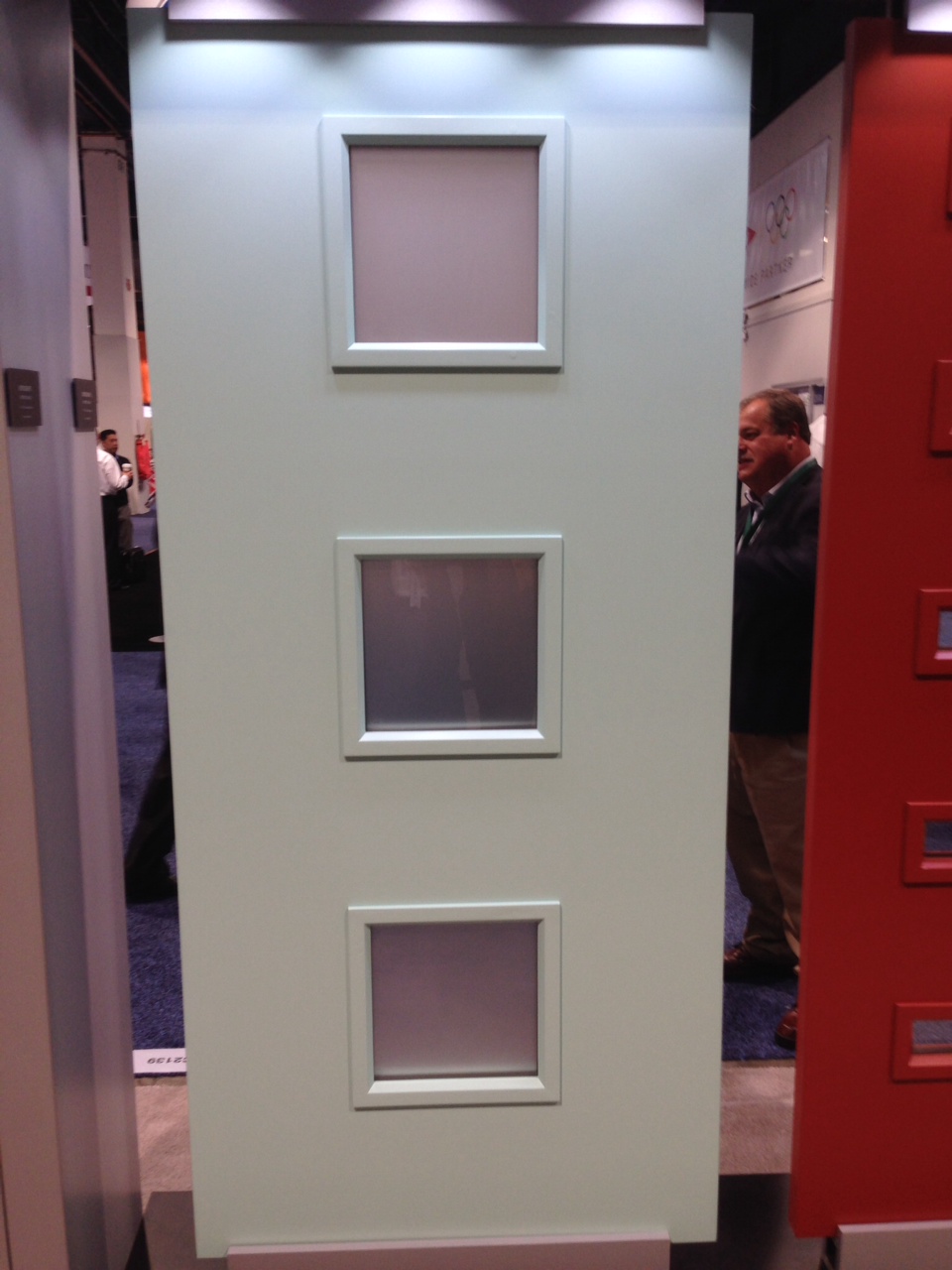 …the real benefit is, again, that customization, where I can say I like this configuration, but…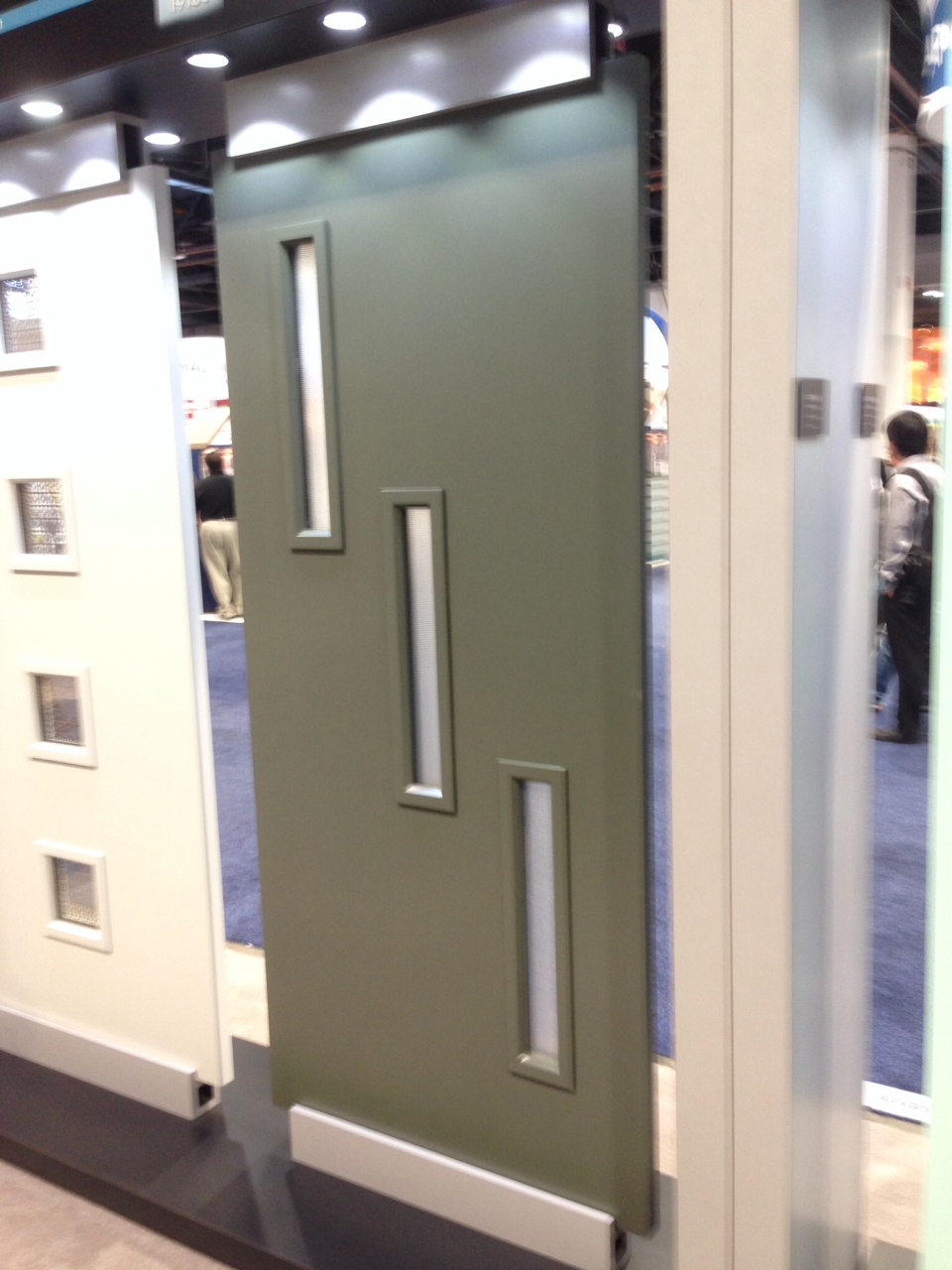 …I want to put a cube here, and I want to put a cube here, to give me that customized look I want inside my own home."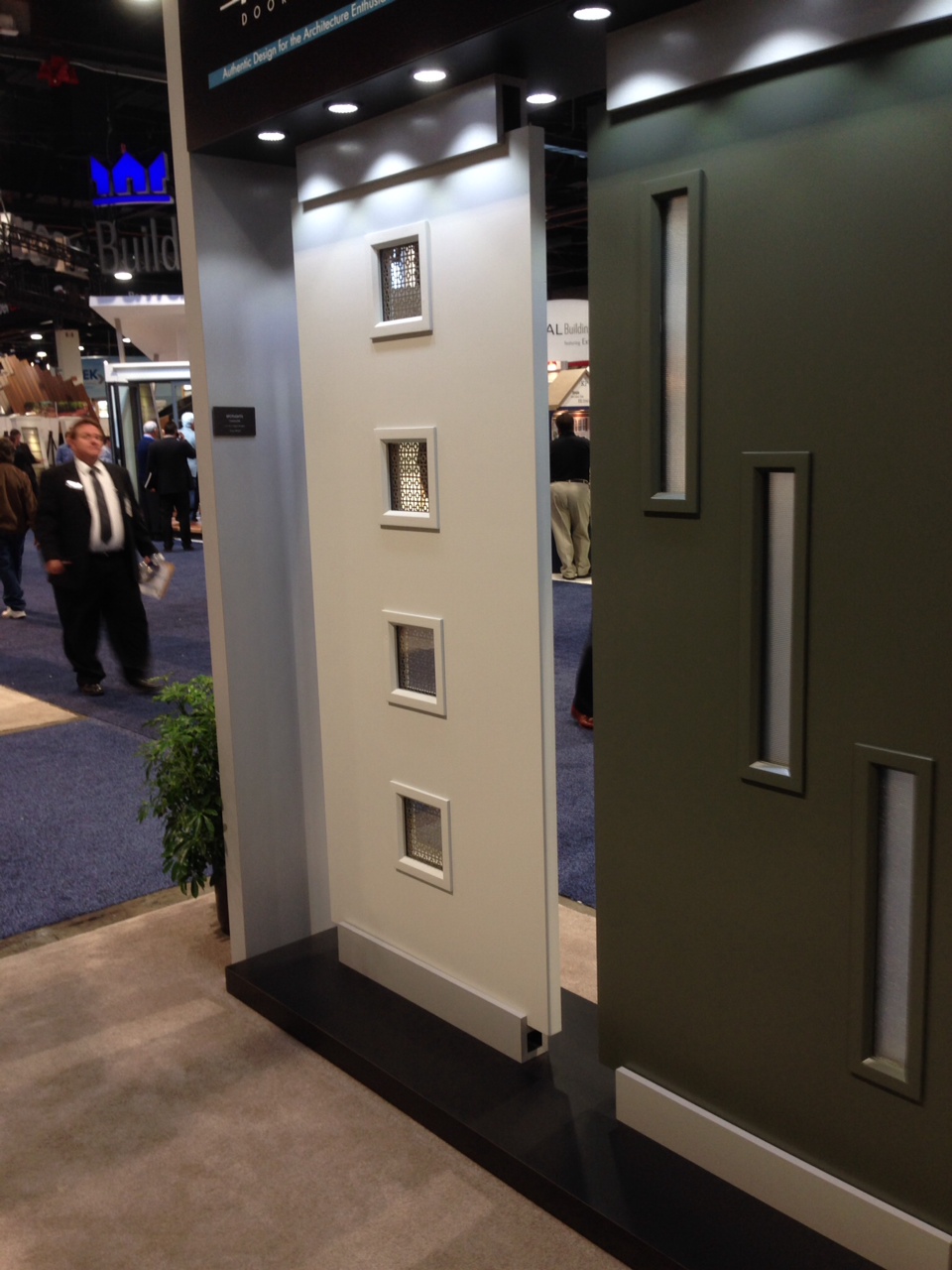 I want to thank Roger Finch for allowing me to record this interview. I was glad I did, because I truly did get lost there in the middle, rolling around in my brain some version of what I have written above. The Spotlight series is visually striking in its own right, but, for me, it strikes a larger chord as well, a chord that seemed to resound throughout IBS this year. Everywhere I looked, through color choice, style, product quality and even innovation – it seemed like "Retro" was evolving to take itself, well, seriously. No longer consigned to simply evoking a feeling, the concepts of "retro" and "nostalgia" seem to be brought back much more than ever to the American table of ideas.
You can find out more information about the Spotlights series door glass by downloading this press release from ODL's site, or by talking with your local Jeld-Wen dealer.
*******