I learned just last week that I have the unique privilege of touring John Deere's Horicon Works facility just outside of Milwaukee, WI.  (Another place I have never been.)  In April, I'll be joining a select group of bloggers, a few already friends.
And, well, with the first day of Spring upon us today (yes – Today), the folks @ John Deere offered these tips to help get us primed for the mowing season ahead. Enjoy!
*******
5 ways to get your machine up and running for Spring lawn care
As the days get warmer and longer, lawn care is quickly again becoming part of the weekly routine. To ensure you're spending more time enjoying your weekend, make sure you're taking good care of your equipment.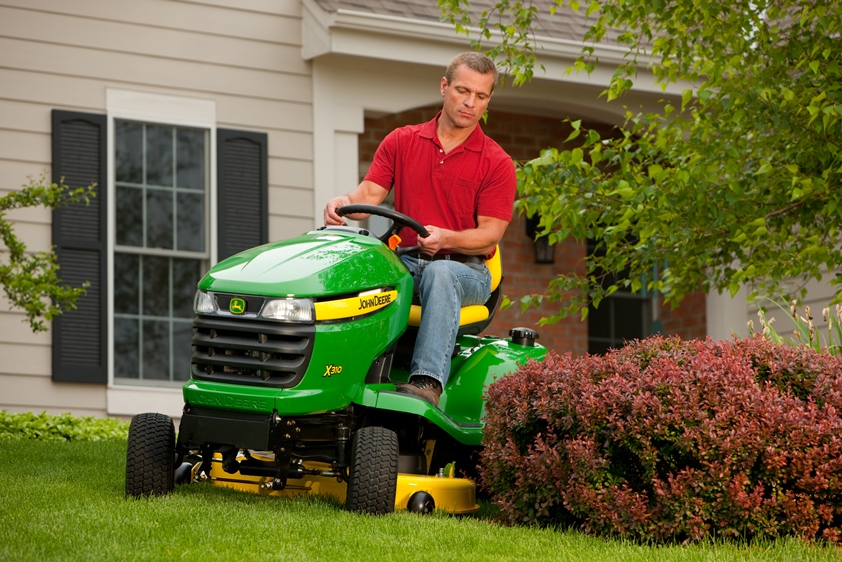 Here are a few tips for mower maintenance to keep it running at optimum performance levels:
* Give it a once over. Tighten all nuts and bolts, and check belts, filters, safety shields and guards. Replace any damaged or missing parts, including spark plugs. Check tire tread and pressure. Make sure your mower is ready to hit the ground running without the fear of breakdowns.
* Stay sharp. To get a precision cut every time you mow and save on fuel costs, be sure the mower blade doesn't go dull. You can use more fuel with a dull blade, so either sharpen up or have a spare blade on hand. For those who prefer to let their mowers hibernate for the winter months, it's extra important to check for dullness and corrosion before starting up the engine for the first time in the spring.
* Hit the deck. Clipping and debris buildup under the deck can cut airflow and reduce effectiveness. A dirty deck can also cause rust and corrosion during winter storage, so be sure to check for buildup before running the mower for the first time this year. To clean, turn the mower on its side and wash the undercarriage with a hose.
* Fuel fix. Add a fuel stabilizer to the gas tank to prevent separation that can lead to corrosion. After adding the stabilizer, run the engine for five minutes. Most riding lawn mowers, like the John Deere X310, also have a fuel tank gauge visible from the operator's seat, so it's easy and convenient to check the fuel level.
* Keep it safe. It might not be the most interesting book on the shelf, but the operator's manual is essential to understanding the specific safety features on your equipment and doubles as a good troubleshooting guide.
*******
Need a hand with mower maintenance? John Deere offers a convenient mobile maintenance service called Mobile Maintenance that brings a factory-trained technician right to your doorstep. Service includes a 14-point inspection on lawn tractors, walk-behind mowers and outdoor power equipment from a specially designed truck made for door-to-door service.