*******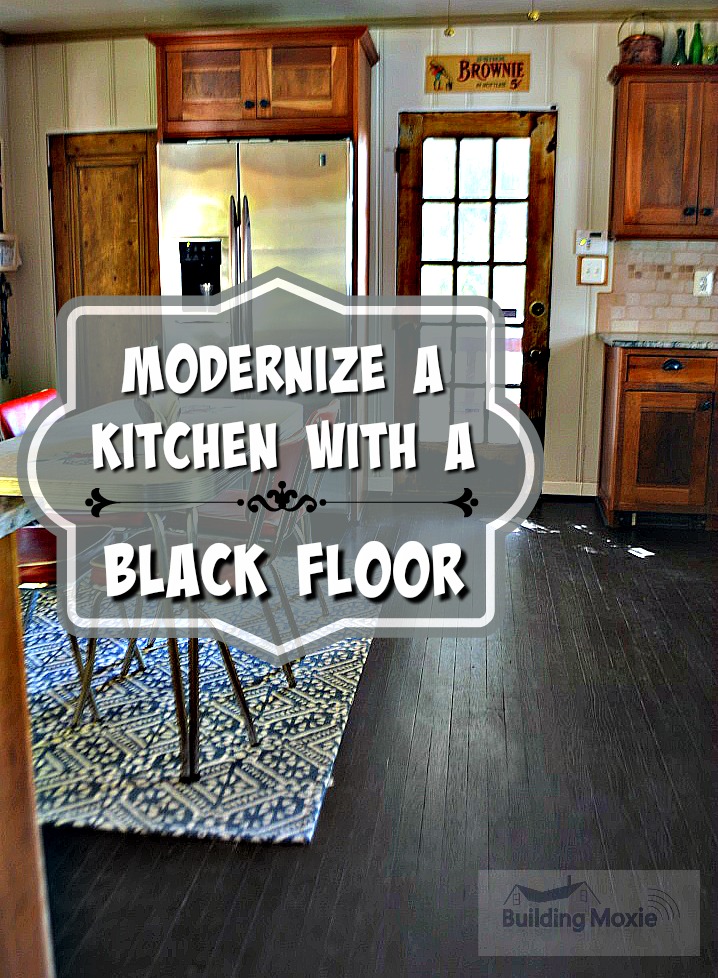 We had two-inch oak flooring with a walnut inlay throughout the old house. Apart from some of the floors refinished to an English Chestnut, most had an original lacquer-based Fabulon finish on them. I determined this only after working in a closet to test my hardwood floor finish.
Fabulon, if you don't know (and don't worry I didn't at first either), was used widely in the '50s and '60s. It was typically considered a bowling alley finish. On the Minwax color wheel, it/they (our floor finish) resembled say a Golden Oak. This was the color of our kitchen floor when it came time to sell to the house.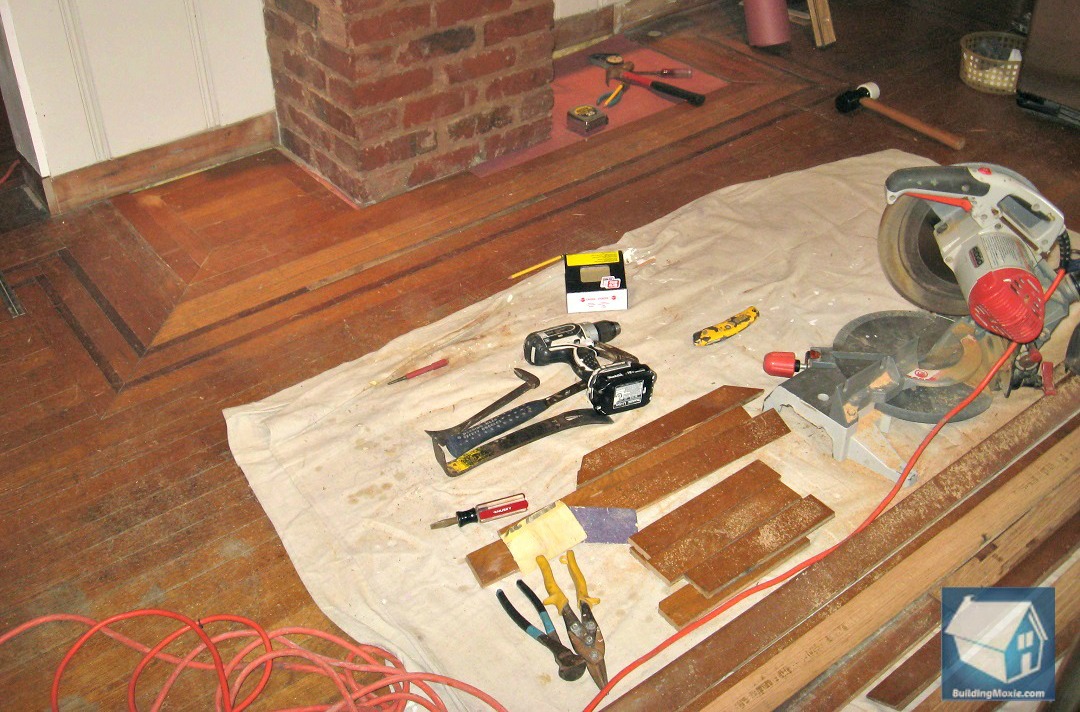 Flooring patch at removed false mantel below. 
Now, I am married to a real estate agent, her name, you know it – Mrs. Moxie. Meaning – I know how important the kitchen is. It can make or break the sale of a home. All important facts in the story of my Black Floor.
We remodeled the kitchen slowly throughout the ten years that we owned the farmhouse. To start, we installed the kitchen cabinets – custom cherry. The floor, however, was something I punted down the road. It remained grossly un-attended to, well, until just a few months back.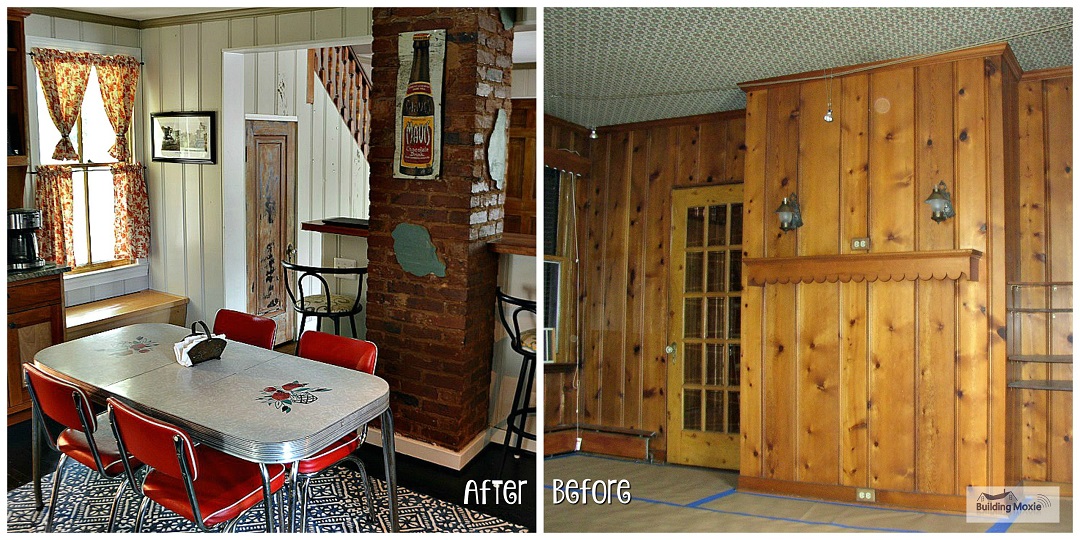 We knew we wanted something dark. Something that would both contrast the aged cherry of the cabinets, but also coordinate with the dark bronze of hardware and fixtures used throughout the kitchen. While Mrs. Moxie went dark in at least one of her flips, we were looking for something even more dramatic here.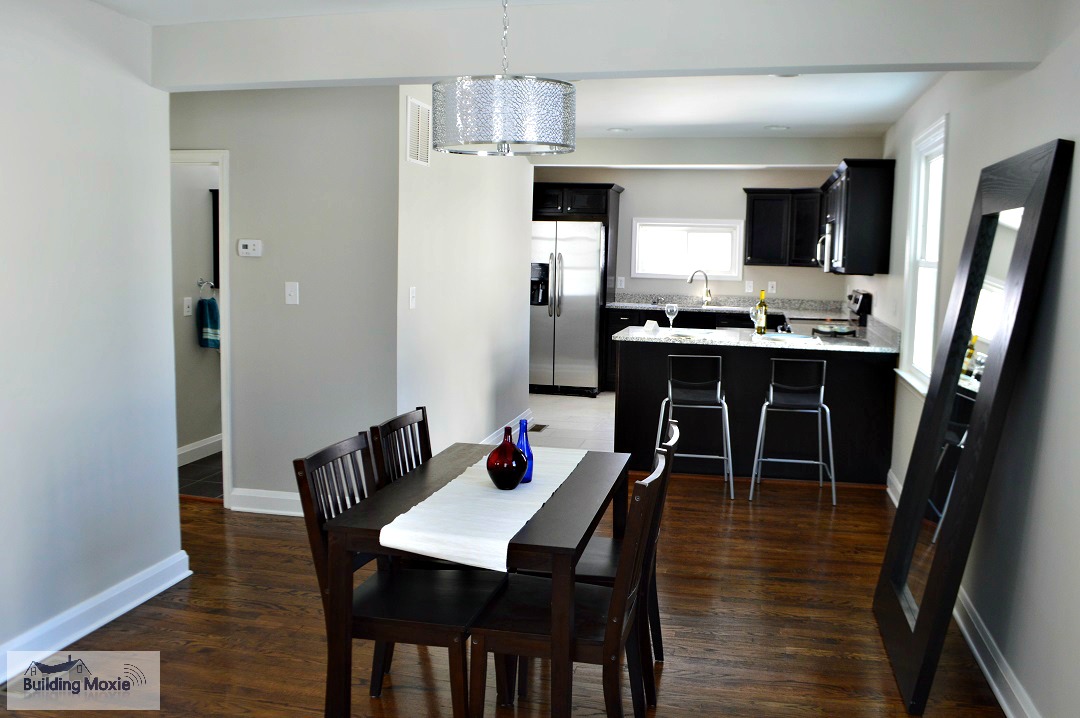 Mrs. Moxie Flip #3 – Jacobean Floors
After some tests, and after, well, a lot of discussion, we ended up with the Black Floor.
*******
In the story of my black floor, there were three elements which made my job somewhat less common than most others.
After some tests, and well, after touching base with some old-timers, I could make a reasonable guess that my floor's current finish was Fabulon (as mentioned above). It's characteristics, as I discovered, were very similar to lacquer, but in the end – it is a very unique finish that is hard to remove.
The 2" oak in my house was only ½" thick.
Also as mentioned above, I would be working in a space that included a number of immovable objects. A kitchen – where cabinets and appliances remained in place. Refinishing a kitchen wood floor can be more challenging that re-finishing wood floors in other parts of the house.
Add to this, for staining – I went off script (against conventional wisdom) and selected a Wiping Stain for my wood floor.
*******
Let's Talk Wood Stains
For many home renovators, sanding and re-finishing a hardwood floor is simply a right of passage. Staining a floor, however, adds a twist of uniqueness, something extra.
Most commonly, we stain floors with an oil-based semi-transparent product. Applied with a brush, pad or even a cloth, color and tone is a very hands on process. In other words, my stain job won't be the same as your stain job. … And we are good like that.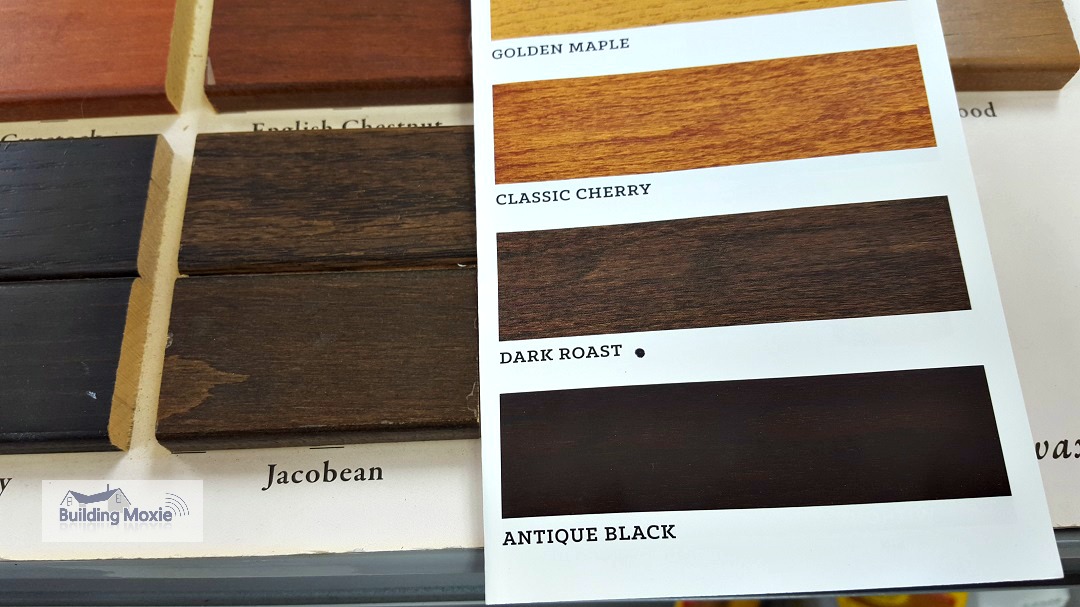 Stain captures and accentuates the features of wood below. The range of selections offered today is, well, nothing less than a source of inspiration.
Black, White, Gold or Blue, Refinishing and Staining a Wood Floor comes down to the 5Ss (and okay I just made that up)
Refinishing and Staining Wood Floors is nothing new; the internet is full of information about it. Whether you are staining your floor black, white, gold or blue, there are a number of steps that you'll have to perform.
This whole process, now, in 5Ss. Let's say: Safety, Surfaces, Sanding, Staining and Sealing.
Okay, there is a little bit more to it. Once you select your products, and pair them with the appropriate tools, a black floor actually requires focus on eight different activities.
When Staining any Hardwood Floor, you must:
Below I provide additional info on each. Throughout the article I also link to valuable resources, as well as products on Amazon that are valuable for this job. If you end up purchasing something via those clicks, it will earn us a small commission. Thank you!
Picking My Poison :: How My Wife and I Ended up with a Black Floor
Blackening wood also is not new, in fact, it is likely ancient in origins. Called ebonizing – this process however has nothing to do with painting or staining. Many looking for a modern look, however, explore it.
If you have access to extra boards from your floor, it should be easy to perform simple tests to see how the floor will accept stain. I had a handful of scraps from other locations in the house (from the master bath remodel to be specific). I retained two-foot lengths from demo partly for this purpose.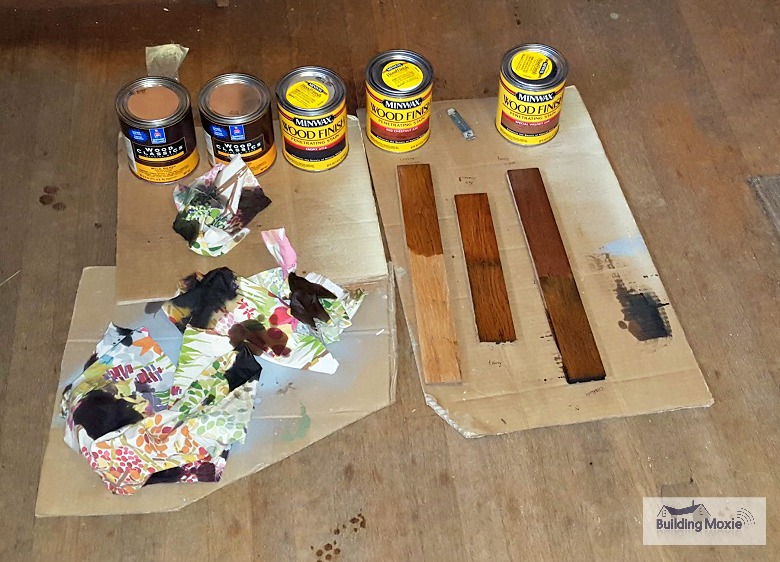 If you do not have access to samples, pick an inconspicuous location to run your tests – say in a closet or in a hidden corner. Simply put, stain doesn't go down exactly as you see it on that little sample card.
I started by sampling some of the darker (stock) semi-transparents: Ebony, New Ebony, and Jacobean (again Minwax colors). I learned quickly, though, that each would fall short of what we were going for in the kitchen. After a few more trials, I discovered and consequently, turned my attention to Minwax Pro-Series Wiping Stain. I found it at Lowes, in Antique Black.
I was bummed to find however that this product was not explicitly recommended for floors. While I briefly explored another Minwax product – Complete 1-Step Floor Finish, I called into Minwax's support line with a few questions about that wiping stain. (Yes, I'm that guy.)
According to the tech I spoke with, "It (the wiping stain) is difficult to apply to large areas, resulting in a blotchy color. And this is why we recommend our Wood Finish Stain for floors."
After chatting for a bit longer, I came to the conclusion, though, that the wiping stain, still an oil-based product, would probably work out okay on my wood floor.
Considering the antique oak had never previously been refinished and that it had some 50+ years on it to season, I just decided to go for it. (But more on this, still, at the bottom.) Always read, and at least consider, product recommendations (on the can).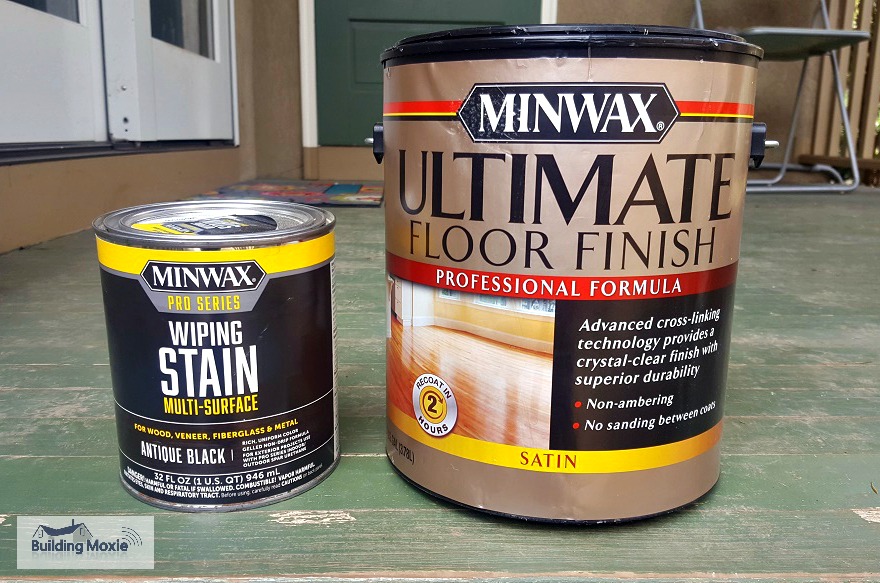 Staining a Black Floor :: The Steps
With re-finishing any floor, no matter what the ultimate finish or color, several steps are performed before you begin the actual staining work.
1.) Clear and Clean the Floor
First, obviously, you must clear furniture and other fixtures from the floor/room. Remove shoe molding from the perimeter of the floor and label (another article there). Remove thresholds, if they are to be refinished and/or replaced.
If you are working in a kitchen (like I was), it makes sense to tape off and protect fixtures that cannot be removed. Wrap the face of cabinets with the cardboard from a broken down Amazon shipping box. Use quick-release, delicate surface masking tape to adhere cardboard to cabinets and other painted surfaces. By doing this, you will keep these surfaces safe as you work with the larger industrial sanders.
Important! Re-finishing any floor means displacement. Re-finishing a Kitchen Floor means a special kind of displacement. Plan to set up a Temporary Kitchen (pictured below).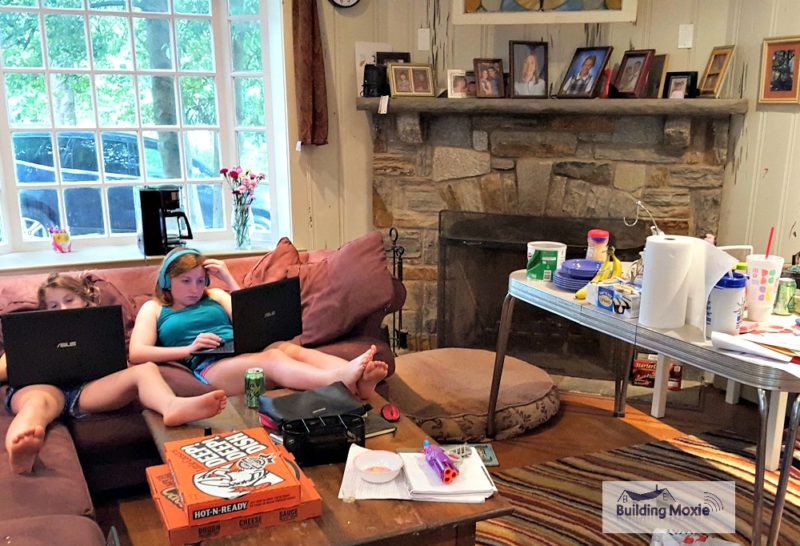 I think is always a good idea to protect adjacent floors. Do this either with builders paper, Ram Board, or again, even cardboard. Doing this prevents damage and helps minimize the likelihood that dust works its way into (natural) gaps between flooring boards in other spaces.
While sometimes nothing more than a visual reference, I like to also tape off at transitions between rooms (again more on this further down).
If you suspect the presence of wax on a floor, clean with mineral spirits. You can use a commercial cleaner/mild stripper for built-up grime. Otherwise, clean with a mild soap and water concoction and towel-dry the floor.
2.) Protect Surfaces & Consider Dust Management
While most floor sanders have built-in dust collection, usually in the form of an on-board bag, this alone only offers so much.
Protect horizontal surfaces with cardboard or plastic. To eliminate dust's ability to enter sockets, cover electrical outlets with Press N Seal and/or with masking tape. Do the same and tape off all heating ducts. (In my case, I had to account for under-cabinet kick-space heaters.)
* Special Prep Involved with Re-finishing a Kitchen Floor
In a kitchen, cover exhaust vents and protect the base of appliances. Use tape, Click Wrap or aluminum foil on these. With a gas range, it may make sense to cut off gas and cover all burners with aluminum foil.
Also because I was working in the kitchen, I chose to remove the toe kick trim from underneath cabinets.
If the floor area is large enough (meaning – likely to create a lot of dust) or your home has an open floor plan, you might consider utilizing plastic partitions (ZipWall or similar) in openings to other rooms. Cover all electronics. If you can, plan to direct airborne dust with a box fan out an open window or door. Remove any screening (if possible) before doing so.
3.) Protect Yourself (Notes on Personal and Public Safety)
* Public Safety
Sanding floors and/or working with Solvents carries inherent risk. When teamed together, those risks are further amplified. Solvents, in most cases, are highly flammable. Wood dust too (including removed solvent particles and heated by friction) have been known to, well, spontaneously combust.
Always keep dust and items like solvent-soaked rags separated. Unload dust collection bags outside and away from fuel sources.
Important! Always read the safety instructions attached to any rented floor sanding equipment. These days, use and safety instructions can often be accessed quickly via the click of a QR Code.
* Personal Protection
Three pieces of personal protective equipment are absolutely essential for refinishing and staining:
First, when running a rented sander, wear hearing protection. Hearing protection rated at NRR 23 or better should do.
Second, equip yourself with an appropriate small-particle dust mask/particulate respirator. Rated, at minimum, as N95 – wear it throughout the sanding and tacking portions of the job. Additionally, it may be worn when you are working with solvents and/or when you are applying stain and polyurethane.
Third, for the staining portion of this job, purchase a box of Nitrile disposable gloves.
Additionally, knee pads can come in handy as you work with applying stain. Wearing impact-rated protective goggles (with nearly any home improvement task) is also always a good idea.
Final Note: Before sanding, make sure any exposed nail heads are counter-sunk below the surface of floor boards.
4) Sand (Sanding a Kitchen Floor + Dealing with Hard to Remove Finishes)
* Selecting a Sander
It's always best if you can identify both the species of your floor and the type of finish(es) that are currently present. This information, plus a consideration of the space you will be working in, will help dictate the type of floor sander you should rent for your specific job.
A Pro's Flooring Equipment :: Staging for other parts of the house. 
While a drum sander is commonly considered the best option for floor sanding, I opted instead for a random orbit three-pad sander. Here's why:
Yes, a drum sander is very effective at removing not only scratches and other damage from floors, but it also takes tougher finishes (like Fabulon) off faster. It is harder, though, to manage at intersections and can be challenging to maneuver in smaller rooms. A drum sander simply takes the most material off of a floor. Again, because my floor boards were only 1/2″ thick – I chose not to risk taking off more than I needed to. As a rule, you can not sand a floor where board thickness is less than 3/8″ thick.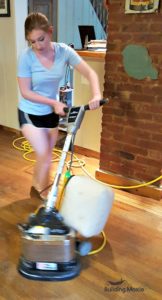 Choosing the random orbit sander itself was not without its shortcomings. Because of this tool's circular motions, it is of vital importance to step through a full range of papers: coarse, medium and fine. Failing this, you risk leaving obvious swirls in your newly re-finished floors.
* Selecting Sandpaper
As a rule, it is best to use the finest paper you can that will successfully complete the job.
For me, I ran the sander fitted with Diablo 7" sanding disks: 36-, 60- and 100-grit, one pass of each. The largest part of removal occurred during multiple passes, however, using 24-grit paper. Ideally, you never want to go this coarse, but with the Fabulon finish – I had no other option.
Showing my curious 13-year-old how to operate the machine.
* Removing Fabulon
The Fabulon really gummed up the paper. I had to stop frequently to remove the paper from the machine. Because the paper is the largest cost center on this job, I cleaned this gumming from paper by flexing each disk, and picking at the hardened residue with the point of a 5-in-1 tool.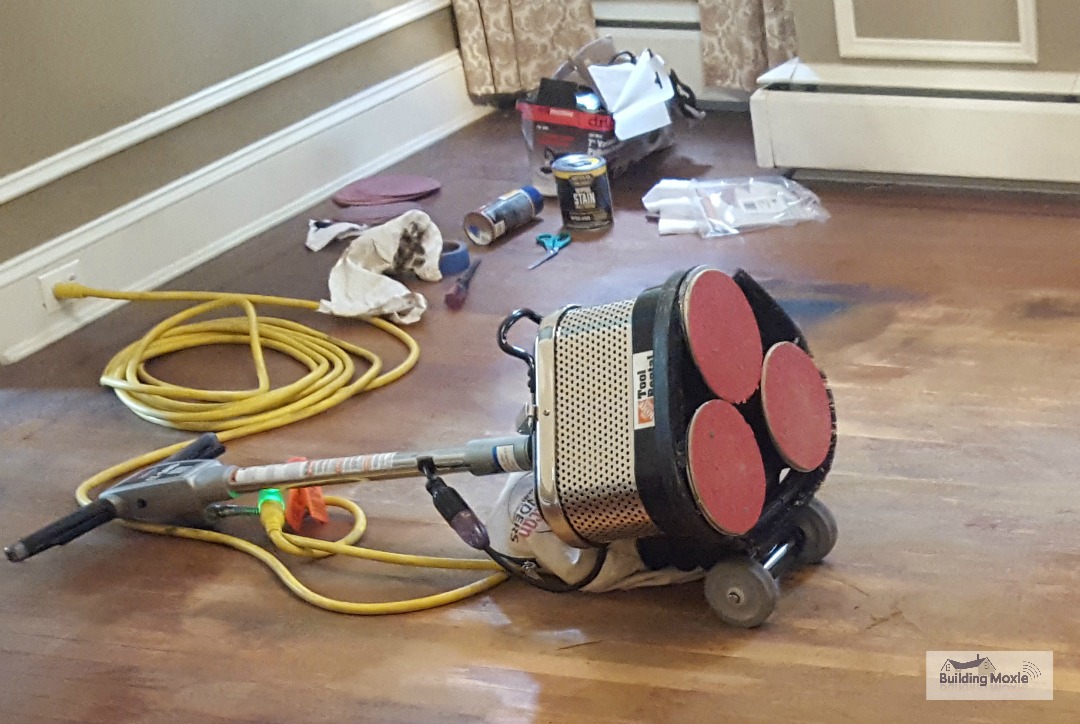 Random Orbit Sander | An adjacent room. Tip: Refinish Pet Stained Floors to English Chestnut.
As we sand (and stain for that matter), we want to remain conscious of the wood floor's grain. We always want to work "with the grain." In the case of hardwood flooring, this means we run sanders along the length of the boards – overlapping each pass just slightly as we might with, say, mowing a lawn.
* Edging
Regardless of the type of sander we choose, we are usually left with areas where the larger sanders cannot reach. For this, rental centers will will offer an edger (basically, a smaller version of the random orbit I used) for addressing these areas. Utilize the same sequence of sandpapers used on the full-sized machine above.
Because I was dealing with Fabulon, I decided to forgo the edger on this job. I used a strategy of spot removal with lacquer thinner, followed by hand scraping with a sharp carbide pull scraper. It was very effective at removing the Fabulon from the edges of the room.
5) Tack, Clean Up and Prep for Stain
A Shop Vac is vital in this job and especially if there is gapping in your floor. Where it makes sense, remove any of the masking you added above and vacuum everything, including the socket holes of electrical outlets. Work top down. Vacuum up the entire expanse of floor, plus any surrounding surfaces. Let the air settle for about a half an hour, then tack with a tack cloth to remove anything that vacuuming might have missed.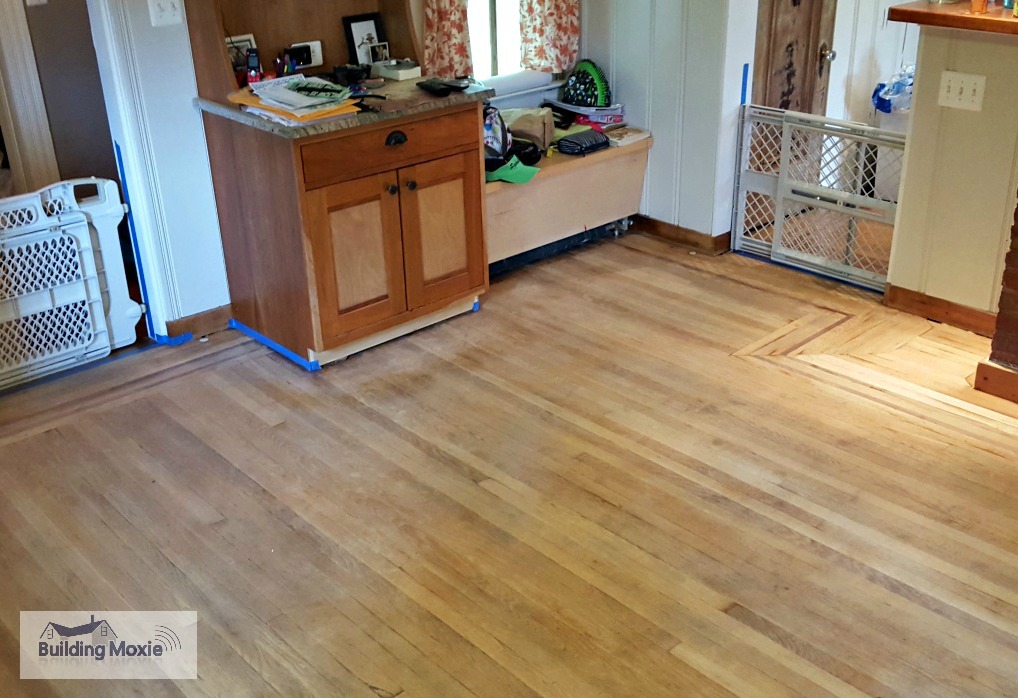 A pair of baby gates did well at keeping pets out of the room as work was in progress.
At this point, some may argue for the addition of an off-the-shelf or even an on-site-concocted sanding sealer. While some may contend, I chose alternatively to simply damp sponge mop the entire floor. (Some would probably loosely refer to this technique as "water popping.") This serves the dual purpose of removing any tough to grab dust, and it helps prep (raise) the grain of the wood floor … readying it for accepting stain.
Tip! The period after sanding and before staining is perfect for fixing any noticeable floor squeaks. (This too, sadly, demands an article of its own.)
6) Stain
With a more traditional oil-based stain (like Minwax's Penetrating Wood Finish), you can choose to use a brush, rag and/or a pad. These stains are applied, are allowed to sit for 10 to 15 minutes, and then are wiped off.
To give more depth to my installation, I actually applied a thin coat of Wood Classics Interior Oil Stain, Wild Berry, from Sherwin-Williams. As with other standard oil-based stain jobs, I pre-conditioned. While absolutely essential with softer woods, this product helps even out stain also on hardwoods, like my oak. For me, the Pre-Stain Wood Conditioner was brushed on directly from a quart can. (I find it helps get you also in the rhythm of staining wood.) In a nutshell, this product fills any open pours in your wood allowing a more consistent application and absorption.
Stain is meant to be applied even before this product is completely dry. Because of the size of my floor here, I cut it in half and I applied both the Pre-Stain and my base-coat stain in two parts.
I allowed this base coat to dry overnight. Before moving onto my wiping stain, I quickly screen-sanded the floor. For this I used a 220-grit drywall sanding screen. Again, I damp-mopped the floor and allowed everything to dry for about an hour.
Working with the Wiping Stain for My Black Floor
Enter now the wiping stain I selected (again – Minwax Pro-Series Wiping Stain). The can clearly did not identify it for floors. My assumptions, and my discussion with Minwax support staff seemed to support this: 1) A wipe-on stain has a very short dry time, by the can – 3 minutes instead of that 10 to 15 with a semi-transparent for removing excess. 2) Because it is applied by hand, the consistency a floor demands would be hard to find.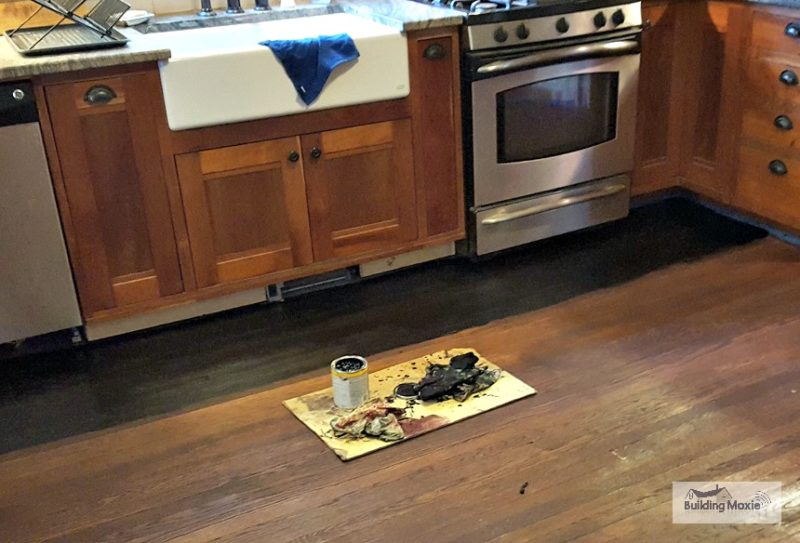 I'll admit it – applying a wiping stain to a floor was hard work. I had to work fast and, well, hard. It took me about a quarter of the floor to figure out the/my ideal application method. While instructions recommended against thinning this product, really … at this point, what did I have to lose? I wish I would have explored this more. While difficult, I stirred the wiping stain to the best of my ability to keep it workable.
Using those nitrile gloves I mentioned above, I dipped wiping rags directly into the quart can. I created a working area and applied stain over about a 4 square-foot area. After three minutes, I wiped off excess with a different cloth. I learned after a bit that this was not the best approach. The approach that made me happiest instead was using a single rag fully-loaded with stain. (I mean – there wasn't even an inch of white left visible on the cloth.)
The action of removing excess and wiping off was nothing more than actually a leveling out of the stain applied to the floor. I used four rags and just short of a full quart for this roughly 2oo-225 square-foot floor.
This wiping stain has a slightly longer overall (to clear-coat) dry time that standard semi-transparent stain. For added piece of mind, I allowed it to dry for 36 hours before I moved onto Poly and sealing.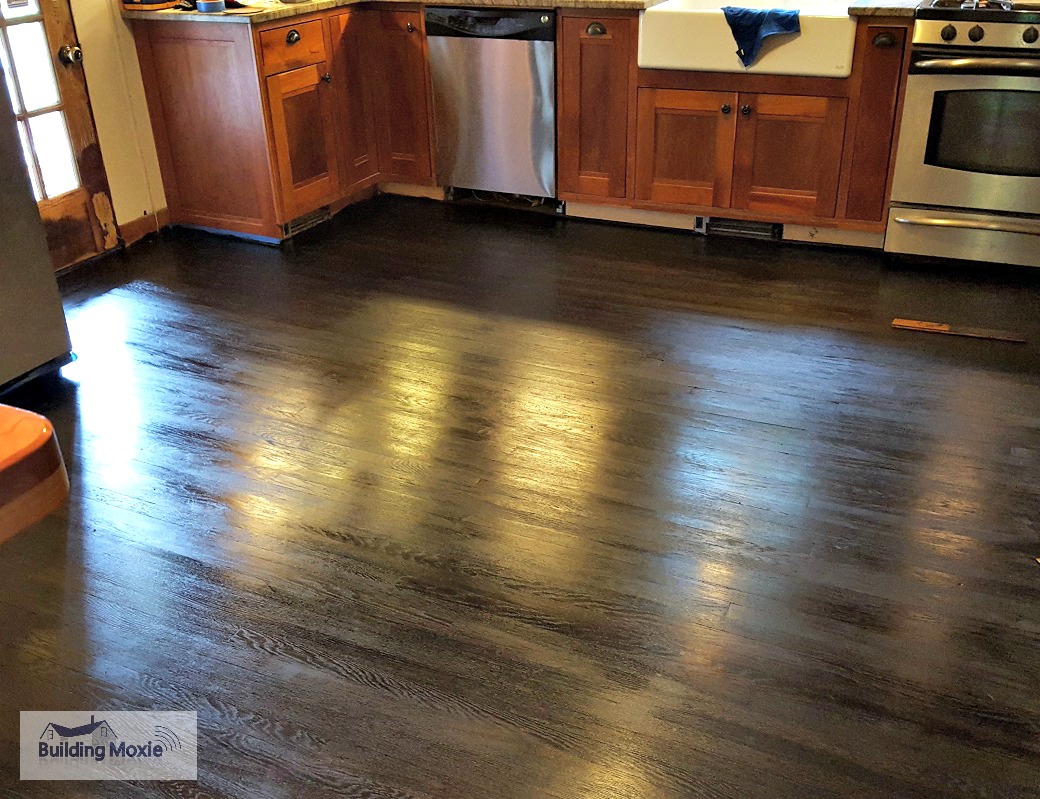 Note: There were a few spots that I did have to buff off with a rag hinted with mineral spirits. Because it is a wiping stain, it affords also easy, inconspicuous touch-ups.
7) Poly/Clear Coat
After waiting a full day and half, again I damp-mopped my floor. Allowing an hour again for air drying, I was coming down the home stretch. I was ready to clear coat the floor. Minwax makes a wide range of Polyurethanes that are perfect for any flooring project. But which should I choose?
While I had worked exclusively with oil-based products on this job, the Clear Coat, Ultimate Floor Finish, a water-based product, grabbed my eye. Over bare wood, I'd choose oil-based poly for a warm, amber-tone. Water-based polys, in contrast, dry absolutely clear. In my case, not wanting to impact the rich black floor underneath, I chose Ultimate in Satin.  The satin's medium sheen and durability at that sheen were perfect for this job.
Ultimate Floor Finish – I was absolutely knocked over by this product. While price had scared me away initially, the time-savings for a job like this is huge. The Ultimate Floor Finish can be re-coated as soon as two hours and up to 24 hours without fine sanding in between coats.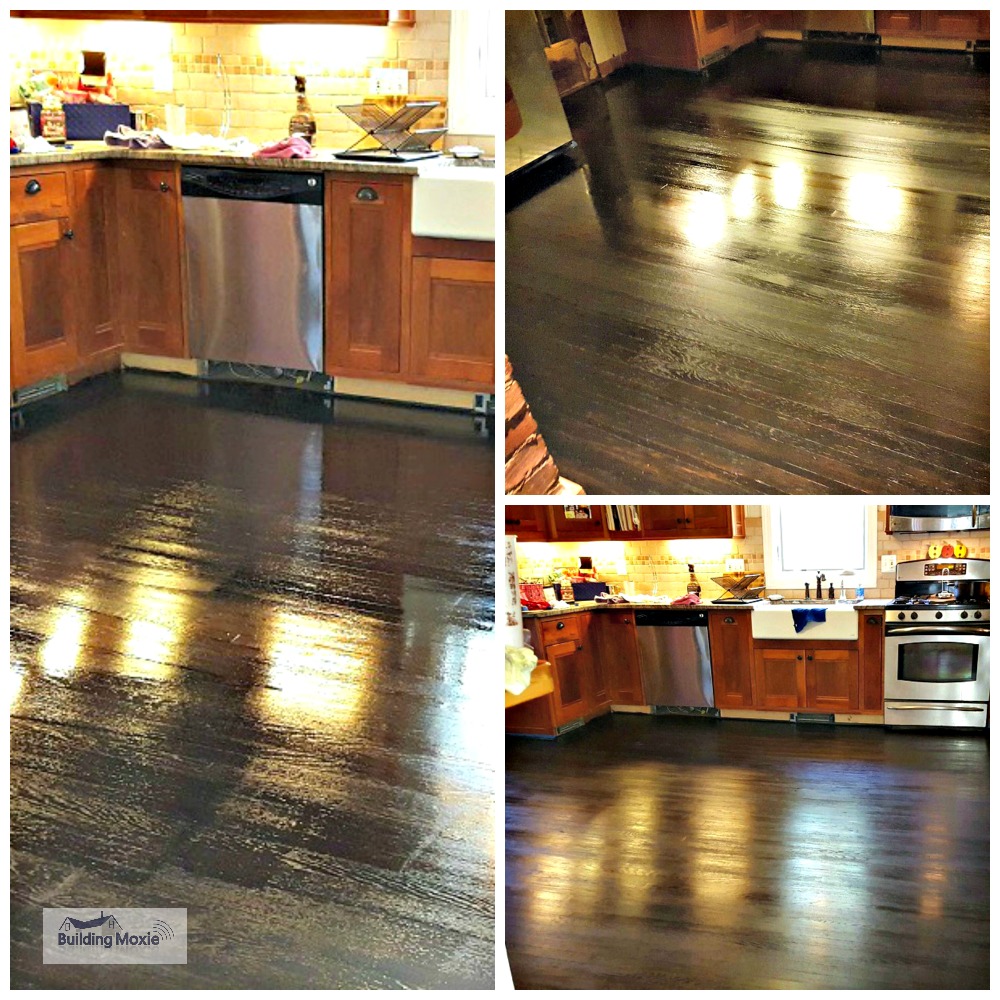 Poly applied – in various states of dryness.

Poured out into a paint tray, I applied it with a synthetic pad applicator connected to a standard broom handle. (Try for long consistent stokes. Stop marks may appear, as in the photos above, but fade right in as the clear coat dries.) I used standard disposable foam paint brushes for edging and cutting in. Water clean-up, Easy Peazy, three coats.
Optionally, any imperfections or high gloss areas after curing can be buffed down by hand using an abrasive pad and water.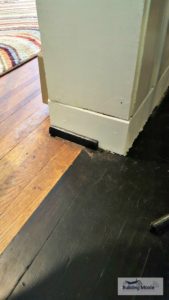 8) Finishing up (Re-installing Shoe Molding & Toe Kick)
At transitions room to room, well, there were none for me. The kitchen floor connected at elevation with an adjoining stairwell landing and the living room. In these locations, I masked a straight line. And here is another beautiful thing with the wiping stain. With a semi-transparent oil-based stain, it would be near impossible to strike a crisp line. Not with the wiping stain, I simply masked off and pulled the tape back to reveal a perfect demarcation between rooms.
As for shoe molding, while I did consider purchasing new, I set up outside, deglossed and sprayed with a coordinating satin black spray paint. Re-installation was a breeze, because I had much of it marked and labeled from when I removed above.
Wrapping Up – The Story of My Black Floor
As you can see this black floor is slick (though it does show foot traffic.) It's a super way to get a modern look in a really old house. It excellently hid many of the imperfections in the floor – including a fairly large pet stain (another story for another time). While some might say, "It just looks like you painted the floor." Well, I think that is fair – the wiping stain was applied thick. But trust me when I say standing in the kitchen, the grain of the floor is easily recognizable. The hint of Wild Berry that was added in a base coat too added depth, actually shows through some mild distressing I added.
Bottom line: I loved it, my wife loved it and so did the new owners of our old house. Wishing now I would have Swisher'd the black floor for these pics. (Required at least once a week, I'm sorry.) I saw very little, if not none, of the blotchiness referenced by the Minwax tech above. Where I did see slight build-up, I simply knocked down, again, with a soft rag lightly teased with mineral spirits. Any location I felt was perhaps a little thin, I simply touched up.
Thanks for reading. ~jb
For information on maintaining wood floors or for inspiring flooring projects in general, please see our top level category, Flooring.
I hoped this helped.
More Moxie
You can find more on the fabulousness of Fabulon with this Google Search. (By the way, it is still available today.)  
To investigate further on the topic water popping, this looks like a good article: The Pros and Cons of Water Popping.
For some really gorgeous Stain Black Floors, check a Google Image Search.